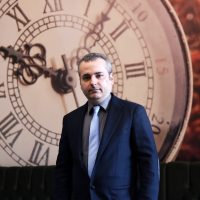 Serhan Hakgudener, Ph.D.
Chair, Architectural Engineering
Serhan Hakgudener is Acting Chair and Assistant Professor in the Department of Architectural Engineering at the American University of Kurdistan, where he has been a faculty member since 2019. He has been working in or teaching about the architecture industry since 2003. Dr. Hakgudener earned his PhD from the University of Calgary, his Master of Science in Architecture degree from Yeditepe University, and his Bachelor's degree at Sanford-Brown Institute. His research interests range from architectural theory to design to implementation, lying in electromagnetic shielding considerations in buildings, spatial design for healthy and effective electromagnetic wave propagation, sustainable architecture, and computer-aided design. He has collaborated productively with researchers in disciplines overlapping with architecture, such as electronics engineering, structural engineering, and computer science, particularly on problems involving the security of wireless communication data.

Dr. Hakgudener started his career in academia through his eight years of teaching and advising students at Yeditepe University and the University of Calgary as he was finishing his own work on higher degrees. He has also assisted many architectural and engineering firms over the years, providing innovative solutions. He has reviewed scientific papers for the journal Building and Environment.