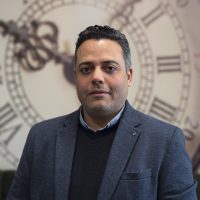 Reda Abdelazim, Ph.D.
Chair, Petroleum Engineering
Dr. Reda Abdel Azim holds a PhD from the University of New South Wales in Australia, granted in 2015, in addition to an MSc and a BSc from the University of Cairo in Egypt, granted in 2005 and 2010, respectively. All of his degrees are in Petroleum Engineering. Prior to joining his alma mater Cairo University as an Assistant Professor in 2015, he was an Associate Lecturer at the University of New South Wales, his other alma mater. Outside of academia, he worked with the SLB oilfield services company as a reservoir engineer for more than three years (2006-2009) and then with Technical Petroleum Services (TPS) as a senior consultant petroleum engineer for two years (2009–2011). At TPS, Dr. Reda led a research program in the areas of integrated reservoir studies and pressured transient analysis.

Dr. Azim joined the American University of Ras Al Khaimah (AURAK) in 2016 and there served as Chair of the Department of Chemical and Petroleum Engineering (CPE) from 2017-2018. At AURAK, he was responsible for managing the reservoir engineering laboratory and teaching reservoir engineering courses. In addition, he chaired the committee on reports for the Accreditation Board for Engineering and Technology (ABET). Currently, Dr. Reda is the Acting Chair of the Department of Petroleum Engineering at the American University of Kurdistan. Dr. Reda has more than 55 publications, between international journals and reports on conference proceedings.