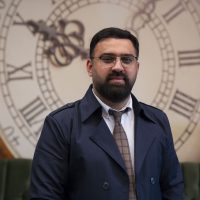 Alaa Ahmed, MSc
Lecturer, Architectural Engineering
Alaa A. Ahmed is an architect and urban designer with over 14 years of experience in the design and implementation of commercial, residential, and industrial projects. He received an MSc in Urban Design and Planning from Heriot Watt University in the United Kingdom in 2014, and he got his Bachelor's in Architectural Engineering from Duhok University in 2009.
He is a member of the Royal Town Planning Institute (RTPI) in the United Kingdom. He formerly served as Chair of the Design Department at the Municipality of Duhok. Also in Duhok, he was Chairman of the Investment Lands Allocation Committee (ILAC) from 2010 to 2012 and a member of the Land Distribution Committee.
Mr. Ahmed has won three design competitions: "Monument of Peshmerga" in 2016, "Kayar City Residential Complex" in 2011, and "Social Care Complex" in 2010. In addition, he has nearly a decade of teaching experience at reputable universities and has delivered over a dozen different courses on architectural and interior design.