Letter from the Emeritus Provost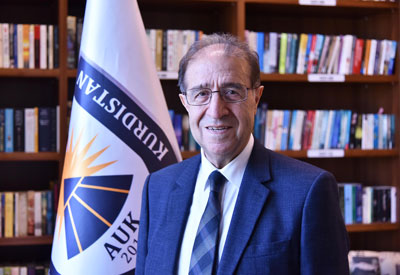 Welcome to our website of Academic Affairs. The American University of Kurdistan (AUK) as an institution of higher learning is dedicated to shaping future leaders through academic excellence. We implement the liberal arts American System of Higher Education. It is my honor to serve as the Provost and Vice President for Academic affairs. I work with a team of highly dedicated colleagues including Deans, Department Chairs, Faculty, and Administrative Staff in the Colleges of Engineering, Arts and Science, Business, and Nursing to implement the mission of AUK. In this effort we cherish the support of our President Dr. Randall Rhodes for strategic leadership.
Our students make the front and center of our actions and their involvement in our academic endeavors is of crucial importance for the successful implementation of our mission. We strive to provide the highest quality of teaching and learning experience for every individual student at AUK. In this respect experiential education through curricular, co-curricular and extracurricular activities, and outcome based learning are of paramount importance. Academic excellence is an ever evolving dynamic process that comes from within. It will undoubtedly retreat if it is not continually enhanced, hence the need to continually adapt our teaching and learning methods through assessment and evaluation in order to adapt to the evolving demands of society, and job market needs of the 21st Century.
AUK's newly established Center for Excellence in Learning and Teaching (CELT), the Institutional Effectiveness Office (IE), as well as the Center of Academic and Professional Advancement (CAPA) are coordinating our efforts to continuously develop our operation for enhancing the experience of our students at AUK, and will soon provide expertise to other institutions in the region. I am honored and proud to be working with our talented academic and administrative staff. Their passion and dedication to serve our students provides the impetus for us all in our endeavor.
Dr. Nazar M.S. Numan
Provost, The American University of Kurdistan
Dr. Numan obtained his PhD in Structural Geology from the University of Sheffield, England. Before moving to AUK, he was involved in higher education as Faculty, Department Chair, and Dean for eight years of the Colleges of Engineering, and the College of Spatial Planning and Applied Science, both in the Kurdistan Region and Iraq Prime. He served in permanent committees for quality assurance and human capacity development programs in the Ministries of Higher Education in Baghdad and in Kurdistan. Dr. Numan consulted for local and international oil companies as well as consultations in Iraq Prime and Kurdistan Region on water resources. He has conducted and supervised local and international research into the structural geology, petroleum geology, seismicity of Iraq, remote sensing, as well as urban and regional planning in different parts of the Kurdistan Region and Iraq Prime. He currently advocates with AUK for sustainable economic development in the Kurdistan Region through providing quality education, human resources development, entrepreneurship, and environmental protection.