Letter from the President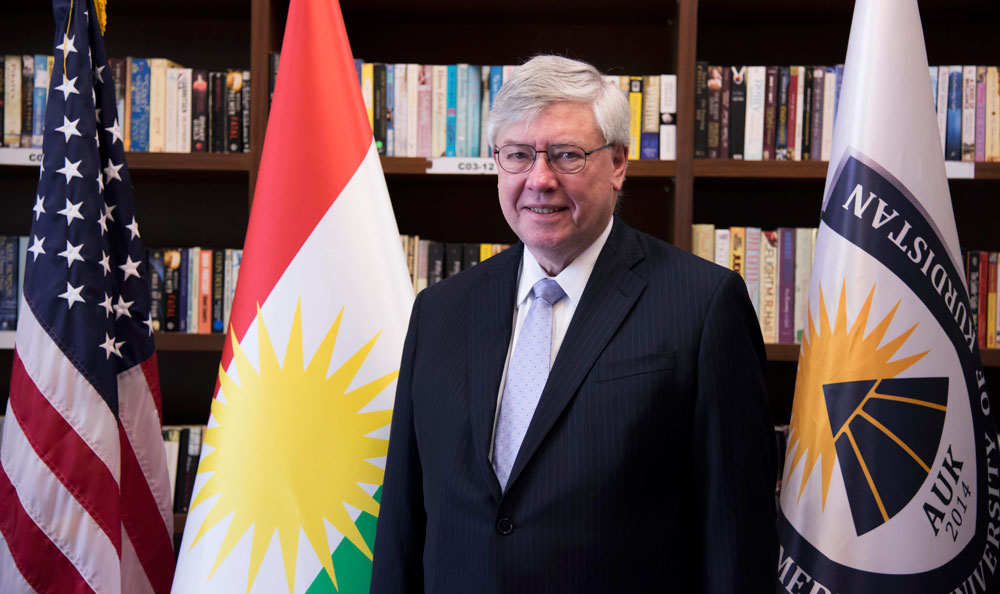 These are exciting times. I am delighted to join the American University of Kurdistan as interim President.
My academic experience includes service as Chairman of the Graduate Assembly (the student government association for the university's 10,000 graduate students) at the University of California, Berkeley. I then managed the Graduate Division of the University of California, Santa Barbara. From there I joined the United States Foreign Service, where, for 22 years, I continued to promote university education, sending hundreds of students to study in the U.S. I also founded the American University in Bulgaria, which, after nearly 30 years, has become a leading university in Eastern Europe.
Following my Foreign Service career, I returned to academia as President of Graceland University, a fine small university in Lamoni, Iowa. From there I moved on to Seton Hall University, where I served as Dean of the John C Whitehead School of Diplomacy and International Relations.
In all these institutions, my intention was to help the institutions grow, but also to interact with individual students and programs in a constructive way.
My Foreign Service career was spent almost entirely in transitional environments; Hungary, East Germany, Bulgaria, Bosnia, and Kosova. In East Berlin, I was present at Reagan's "tear down this wall" speech.  In Bulgaria, I witnessed and aided the fall of communism. In Bosnia, where I served as U.S. Ambassador, I helped end the war, build the peace, and secure a new nation. In Kosova, as Chief of the U.S. Mission, I helped create and secure another new nation. Therefore, the issues and aspirations of Kurdistan, and the students at AUK, are familiar to me.
Throughout my years in academia and the Foreign Service, I have grown to trust and respect numerous individuals, with whom I have had the privilege to work. I will now call upon them to assist the work of AUK here in Duhok, or wherever they may be; Canada, India, Germany, Denmark, and many other places around the globe.
This is a young, new country, filled with promise.  Predictions for the future must be positive, and AUK will help achieve the best results.
The next five years in AUK's history will be exciting, and filled with challenges!  We have already begun a program to open the American International Schools, starting from Duhok, and we hope that we can create a network of such schools. We are also moving quickly to create a Medical School, and this fall we hope to have a new Nursing program in place.
We will work quickly to achieve the highest standards of accreditation. We plan on training the next generation of leaders for Kurdistan in a wide variety of fields, wherever they are needed.
As I look around I am convinced that the people of Kurdistan share a basic belief with Americans: today is better than yesterday, tomorrow will be better than today. This fundamental optimism is at the heart of an American institution and education. We build for a brighter future.
Kurdistan is filled with bright, talented people. The talents must be recognized and developed.  AUK will contribute to this effort.
I hope to build on the superb work already taking place at AUK. I hope that we, together, can contribute to the success of Kurdistan, and I hope that I can contribute to your individual success and the success of AUK. Together we will transform the future.
I am thrilled to be here.
John K Menzies