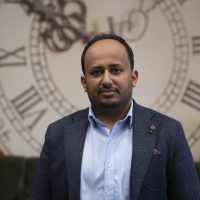 Ahmed Al-Masoodi, Ph.D.
Assistant Professor, Electronic and Telecommunication
Ahmed Hamood is currently an Assistant Professor at the American University of Kurdistan. He received Bachelor's, Master's, and PhD degrees in Engineering from Malaysia's University of Malaya. His previous positions include Assistant Professor, Head of the Electrical and Electronics Engineering Department, Coordinator of the Academic Planning Committee (APC), and Deputy Dean of the Faculty of Engineering. He has also served on numerous committees, including ones on academic validation and Key Performance Indicators.

His research interests include photonics technology and fiber-optic devices. He has supervised several PhD students, and he has published more than 50 papers and a book chapter. His articles have been cited over 500 times. He has been awarded a research grant as a principal investigator. He is also a reviewer of several international technical journals, books, and conferences. He has contributed his expertise to accreditation programs and the advancement of education about science generally and engineering specifically.