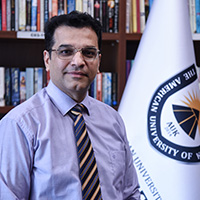 Mustafa Ameen, Ph.D.
Chair, Design
Mustafa Amen is Assistant Professor with more than 20 years of experience in education and design both architectural and interior. He got his bachelor in architectural engineering from the University of Baghdad in 1994, and later his M.Sc. in in urban planning from the Urban and Regional Institute of Planning in the University of Baghdad in 1998. Dr. Mustafa worked between January 2000 toSeptember 2009 in architectural and interior design in the Gulf Region, especially inDubai and Abu Dhabi with international contractors Depa Arabtec, Greenline Interior, and Archtag. This work involved several masterpiece projects and five-star hotels in the Gulf like the Emirates Palace Abu Dhabi and Fairmont Dubai.
Dr. Mustafa embarked on his Ph.D. study in the Girne American University between 2014-2019. The theme of his research work was in the general field of urban design, in particular, urban spatial semiotics dealing with the impact of the urban space configuration on spaces spatial semiotic.
He has published several papers and research in Clarivate and Scopus indexed journals as well as some local journals which is indexed by NUR in the Ministry of Higher Education and Scientific Resaerch