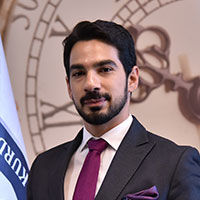 Dara Sherwani, Ph.D.
Chair, Computer Software and Security
Dr. Dara Sherwani received a PhD in Human-Computer Interaction in 2016 from the City University of London, a Master of Science in E-Business in 2011 from the University of Huddersfield, a Master of Business Administration in 2010 from the Lebanese French University in collaboration with the University of Picardie Jules Verne and a Bachelor of Science in Software Engineering from Salahaddin University. Prior to joining AUK in 2018, he worked as a Project Lead and User Research Consultant on various projects of developing and evaluating software systems, such as Hospital Information Management, Supply Chain Management and eLearning systems as well as online communities, for clients based in the UK and Iraq.
Dr. Sherwani's research has been focused on user trust in online content. During his PhD, he investigated factors that can influence user trust and the way the design of systems, especially systems that provide user-generated content, can help users in making better trust decision – that is to help users in distinguishing between trustworthy and untrustworthy content.
His current research focuses on the popularity of news posted on social media platforms such as Facebook and Twitter. The aim of this research is to find out the factors that can predict the popularity of news posted on social media and furthermore, the relationship between the popularity of news and real-life behavior.