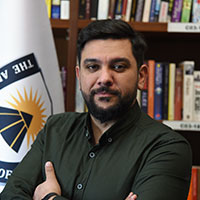 Ahmad Afara, MA1, M.Sc.
Faculty member, College of Arts and Sciences
Ahmad Afara is an Experienced Interior Architect and Industrial Designer with over 8 years of extensive experience in the design and implementation of commercial, residential, and industrial projects across the Middle-East, Turkey, Yemen, Egypt, and the UK. He obtained his BA & MA1 in Interior Architecture from Institut des Beaux-Arts-Université Libanaise in Beirut, Lebanon. In 2013, Afara was granted a full bright scholarship to earn a specialized master's degree in science in industrial design from Anadolu University in Turkey.
His research interests covered many design fields, mainly focusing on human factors, user experience, innovation, physical environments and their relation with physical and mental health. In 2017 he received his MSc, and his thesis addressed "The Impact of Design Studio's Seating Elements on The Creative performance and The Productivity of Students". While obtaining his specialized master, Ahmad worked as a Senior Project Architect at CMYK İç Mimarlık along with a number of Academic-Industrial projects.
Afara has many awards in art and design, and he exhibited his winning product design in Beirut Design Week 2016. He was the only Middle-Eastern invited as a panelist to join the 5th International Furniture Congress, where he discussed furniture design and manufacturing in the MENA region, as long as one of his papers was published in the proceeding book.
Prior to joining AUK, Afara is the Founder and Lead Designer of AFARA DESIGN STUDIO and was the Co-Founder and Design Director of Markit Lab in Saida, Lebanon.