Yazidi Influencer Shukria Khalaf Inspires with International Women's Day Speech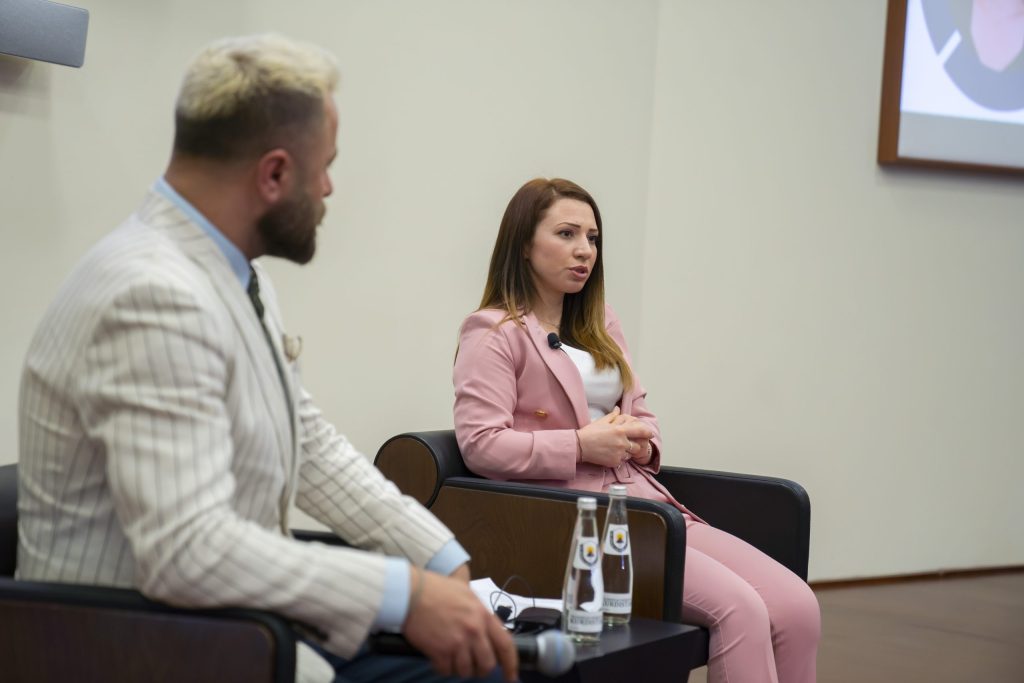 The American University of Kurdistan (AUK) welcomed to its campus a special guest on March 15: Shukria Khalaf, a Yazidi social influencer. Her talk was part of the University's recognition of International Women's Day.
Several local media outlets interviewed Ms. Khalaf before the formal start of the event. Halmat Kestai, the University's Manager of Institutional Marketing and emcee for the proceedings, invited to the stage AUK President Randall Rhodes. President Rhodes spoke of the University's "longstanding commitment" to all aspects of female empowerment and AUK's role in constructing a "culturally progressive society" in Kurdistan. "We push to give women prominence in the awarding of scholarships and leadership positions," he said.
Then, it was time for the keynote speaker, Shukria Khalaf. She spoke entirely in Kurdish, but English synopses of her comments had been prepared in advance and distributed to the audience. She told of her odyssey, as a female, as a student, as a survivor, and as a human being. Hailing from Yazidi Sinjar, she noted the air of azadi brought by the fall of the Baathist regime and took advantage of the increased freedom to pursue formal education at age 13. After attending school up to the sixth grade and being expelled due to advanced age, she had to complete her secondary education through distance learning.
The coming of ISIS severely disrupted the lives of virtually all Sinjar Yazidis; Ms. Khalaf was forced to live as a "refugee" in Syria, then as an "IDP" in Zakho. However, she refused to let her education be disrupted any further. She volunteered with and later worked for Medecins sans Frontieres, and she eventually earned a Pharmacy degree from Duhok Polytechnic University. From her home base of the Chamishku Camp in Zakho, which she claims "feels like our Sinjar community," she worked at pharmacies while volunteering with people with disabilities. Today, with a pharmacy of her own, she is financially stable and respected, but her work and her education, for her sake and others', are both far from over.
There was a Q & A session right after her speech. One person asked why she did not seek long-term residence abroad like so many other Yazidi females. She answered: "I had more than one opportunity to emigrate outside of Iraq, but I did not leave. I want to stay with my family and my community, and I want to return to Sinjar." Another asked about her aspirations. She wants to learn English to reach a wider audience and continue giving workshops for Yazidi girls on perseverance and the value of education.
Halmat Kestai then called to the stage the event's final speaker, Manal Issa, Director of AUK's Office of Advancement (instrumental in the planning of this event). Her message to Ms. Khalaf was simple, yet powerful: "Thank you for your gift," i.e., the inspirational speech. She then announced AUK's gift for her: English-language courses. Her passion is AUK's passion, so the University can only benefit from helping her reach a wider audience.