Student Spotlight: AUK Design Student Jalal crossed the Middle East to find a new home in Kurdistan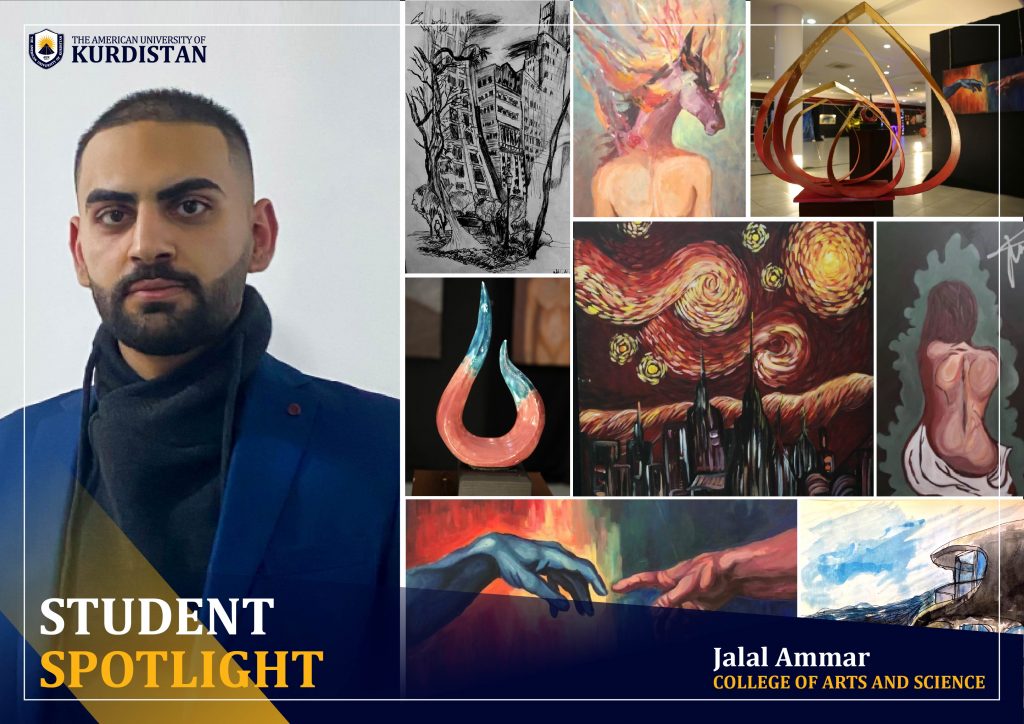 Duhok, Kurdistan Region – January 27th, 2022 – Jamal Ammar is a sophomore at AUK's Design Department. His path to both the American University of Kurdistan (AUK) and the fine arts is an unusual yet exciting one.
Originally from Baghdad, Iraq, his family moved to Egypt and then Jordan when he was very young, where he grew up and finished his education. As in most Middle Eastern families, especially those who decided to build a new life and future in a foreign country, Jalal's parents pushed their son towards a 'traditional' educational path, with medicine, engineering and law deemed to be the only way to success. But Jalal, a multi-talented, free-thinker, who never identified with such plans, was unable to make a finite decision on his future, due to his self-discovery phase as a teenager.
Being very interested in philosophy and spirituality, the young Jalal found inspiration from a famous Arabic quote that says "We are the people of today, not yesterday". He then started exploring different activities and hobbies, finally finding his talents in the fine arts.
"At some point in my life, I started trying new things to keep myself and my mind busy, and to think forwards instead of living in the past," says Jalal.
In 2018, as a Junior at the Cambridge High School in Amman, he started drawing and painting. Even though he lacked skills, he found pleasure in expressing his view of his surroundings on canvas.
The animated young man soon felt the need to try new art practices and experienced the whole spectrum of visual arts from sketching, architectural drawing, oil, acrylic painting, experimenting with watercolors, and even ceramic sculpturing.
From then on, Jalal's passion took its course, and in 2020, he held his first art exhibition, entitling it "Fire", a reference to his fascination for the firebird Phoenix in Greek Mythology.
With his rising success and passion, he convinced his parents of his talents. Initially, with their support, he enrolled at the American University of Madaba (AUM) to study Interior Design.
Following his transfer, Jalal now finds himself living in Duhok in the  Kurdistan Region, studying at AUK's Design Department. He enjoys the full support of his family in terms of the career path that he has chosen.
With this feeling of fulfillment and a clear vision, Jalal and his family have seemingly found a new home in Kurdistan, having traversed much of the Middle East.
"I lived as a foreigner my entire life. Duhok finally feels like home to me", says the young artist. "I love the tradition and lifestyle here, and I'm already learning Kurdish," he adds.