Spring Version of the College of Arts and Sciences Graduation Projects Expo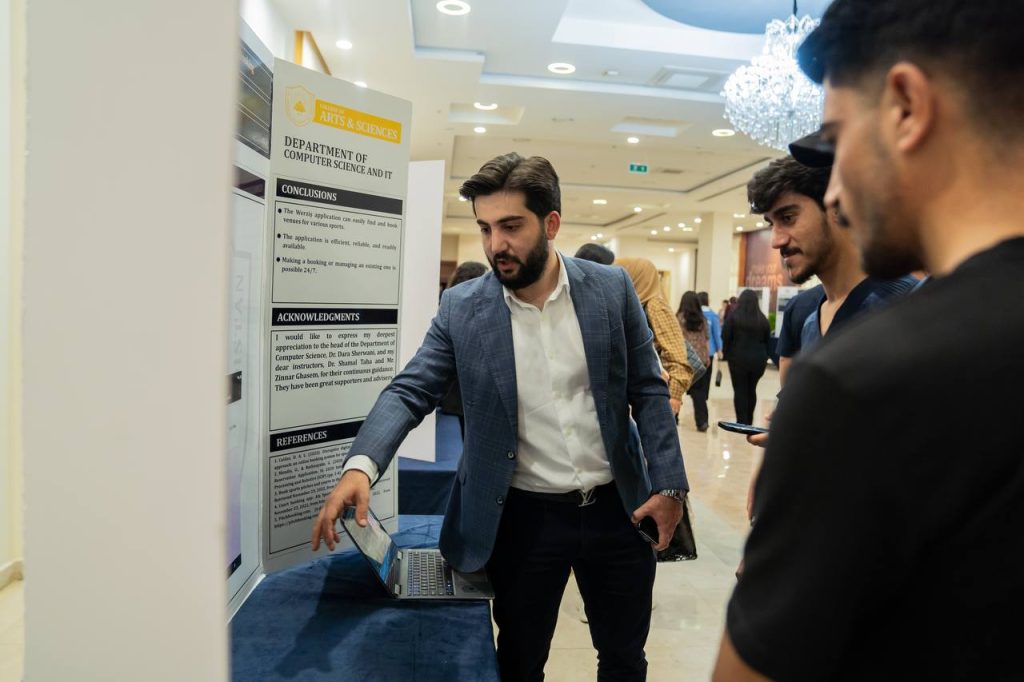 The College of Arts and Sciences at the American University of Kurdistan (AUK) produced its first Expo of student capstone projects of the 2022-2023 academic year at the end of November; a second such Expo occurred on April 30. Students from the three baccalaureate programs, Computer Software & Security, Design, and International Studies, displayed posters and explained their research to attendees.
The eight presentations from the Department of Computer Science and Information Technology were all on apps. Five were about apps that would make bookings more convenient, for those seeking barbers, doctors, sports facilities, or various automobile services. Two apps were meant to facilitate education, and the remaining one promoted mental health.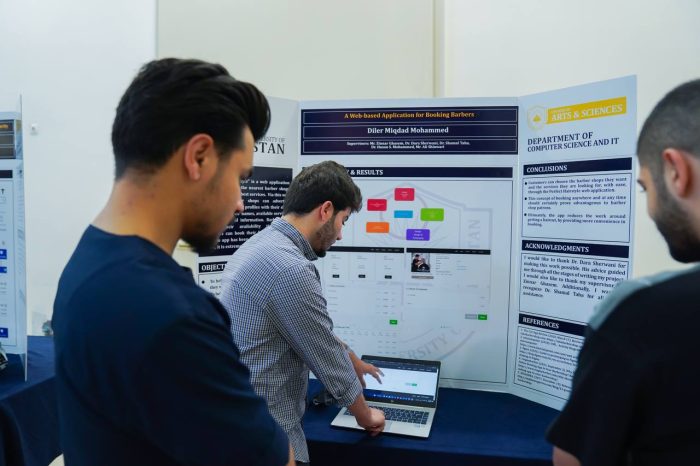 The five poster presentations from the Department of International Studies outlined diverse research. Two dealt with gender: one exploring the influence of culture on gender-based violence, another contrasting the perception and the reality of gender equality on the Kurdish political scene. The other three are not readily grouped together: the progress of "sustainable development" initiatives in Iraq and the United Arab Emirates, social media's influence on university students' election behavior, and prospective tax regimes for Kurdistan.
The Department of Design was represented by six projects. Two projects championed sustainable interior design, one through bleeding-edge nanotechnology, the other through nature itself (in the form of natural wells). Two of the other Design projects centered on female welfare, in one case outlining healthy and therapeutic spaces for battered women, in the other conceiving of a salutogenic maternity hospital. The remaining two projects have the unifying theme of accessibility, in that one called for a space with Braille signage to accommodate the visually impaired and the other detailed the kind of continuing vocational education center that makes employment more accessible.
Soon-to-be graduates of the AUK College of Arts and Sciences exercised their communication skills and displayed their academic accomplishments during their University careers. Such experiences further their readiness for the next phases of their lives: graduate education and employment in the international marketplace.