On-Campus vaccination for AUK Community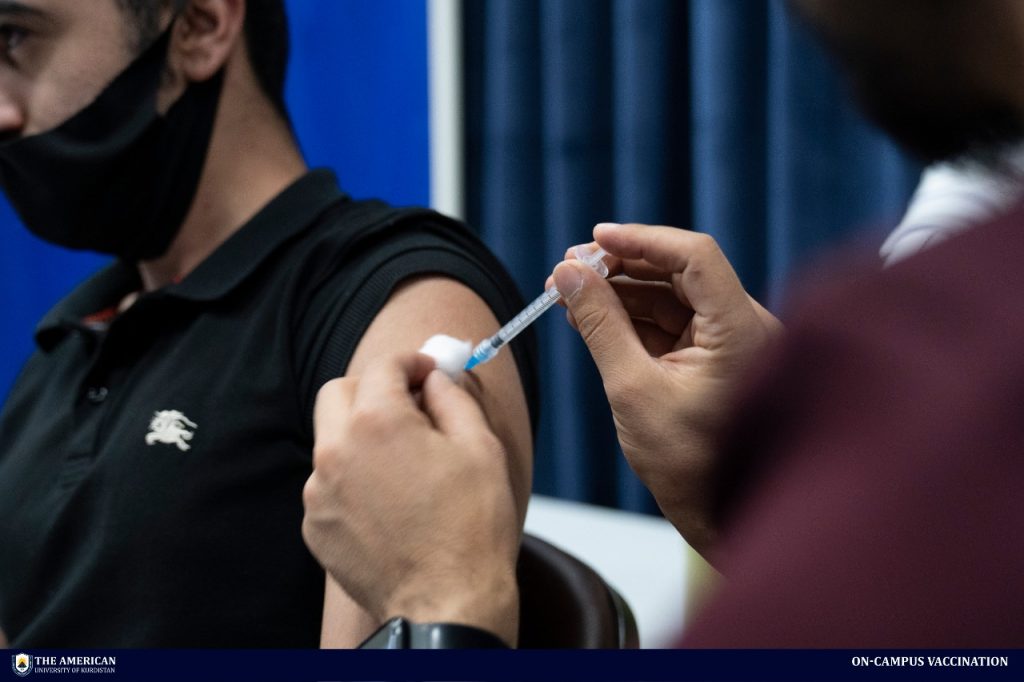 Duhok, Kurdistan Region – October 9th,2021 – To guarantee a covid-free campus and a safe return from online learning, AUK cooperated with the Duhok Directorate of Health (DOH) to provide students, faculty and staff members on-campus COVID-19 vaccination.
In compliance with the Kurdistan Regional Government's COVID-19 Pandemic regulations, AUK is implementing ongoing regulations and initiatives to protect the community from the spread of the pandemic and guarantee a COVID-free campus for a safe return from online teaching.
On Wednesday, October 6th, 2021, AUK's auditorium was set up for the On-campus Vaccination Day, where doctors from the Duhok Directorate of Health injected over 200 students, faculty, and staff members, that hadn't been provably vaccinated previously, with the BioNTech/Pfizer vaccine.
Per AUK's COVID-19 Protocol 2021-2022, all AUK faculty, staff, students, and visitors are required to wear face masks on-campus at all times. In the classroom, cafeteria, library, and other social spaces, seats must be left empty between neighboring tables. Faculty, staff, students and visitors are asked to refrain from handshakes and any further physical contact with others. AUK expects all members of the University community to continue to comply with safety regulations.
In addition, the provision of hand sanitizers for all AUK departments and disinfection procedures by the Campus Service Department will remain ongoing.