Lelav and AUK Sign MoU, Adding to the Growing List of CAPA Tech Bootcamp Partners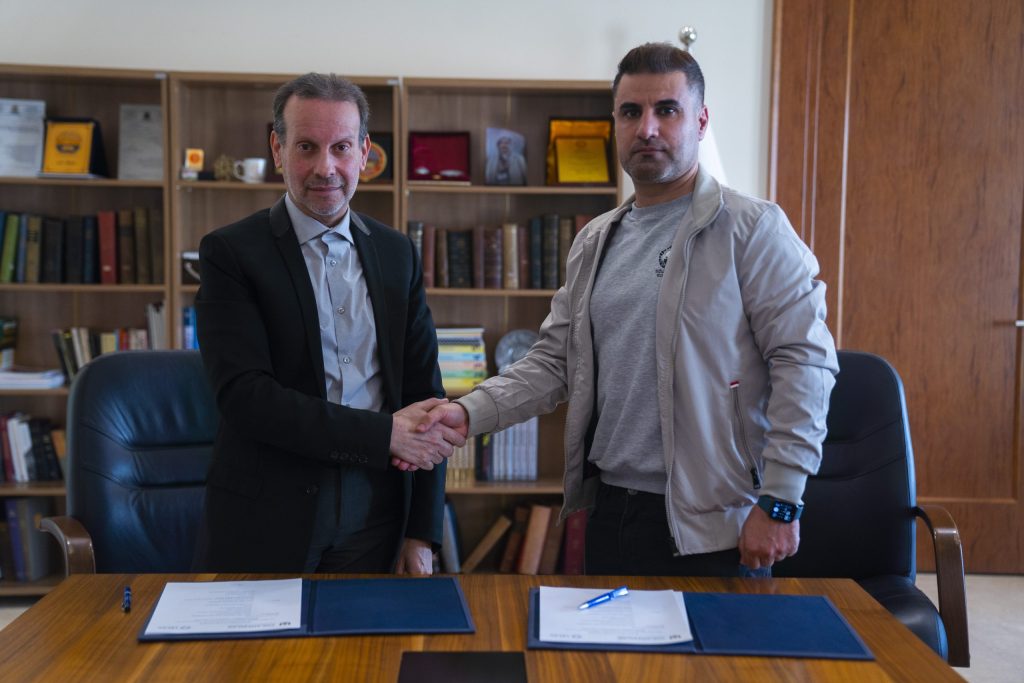 The Center for Academic and Professional Advancement (CAPA) once again grew its professional network on March 1, 2023, when it signed a memorandum of understanding (MoU) with the Duhok-based startup Lelav Tech Company. This latest MoU signing, similar to CAPA's recent ones with KII and Wedo Academy, was done on the campus of the American University of Kurdistan (AUK). Lelav was, in fact, established by AUK students, and two of its executives, Fatima Ahmed and Dilovan Matini, seniors in the Department of Computer Science & Information Technology, did an interview with the AUK website about their experiences as young entrepreneurs in December of 2022.
The two signatories agreed to collaborate on a new project initiated by CAPA, the "CAPAi Design Thinking Tech Bootcamp." It provides a platform within Kurdistan for talented and gifted young professionals to come together and work out "real solutions" to "real problems"; the "i" at the end of "CAPAi" stands for "innothink," a neologism that is itself an example of the "innovative thinking" camp participants will be doing. As was reported previously, it will be facilitated by Raffi Simonian, Executive Director of Epicenter for Action Research at the University of California, Los Angeles (UCLA), maestro for analogous bootcamps at Los Angeles Community College (LACC) and UCLA. This July's CAPAi Design Thinking Tech Bootcamp at AUK, for which applications are now being accepted and scholarships are available, will be a proving grounds for Kurdish entrepreneurs and the birthplace of exciting business proposals, which after suitable incubation and investment should contribute to the Kurdistan Region's ongoing economic growth.
Representing Lelav Tech Company for the official signing of the memorandum of understanding with Dr. Randall Rhodes, President of the American University of Kurdistan, was Dilovan Matini, Lelav's Chief Executive Officer. Just like the KII-AUK MoU, the Lelav-AUK MoU calls for joint action on the Design Thinking Tech Bootcamp's participant recruitment, the providing of industry experts as coaches and presenters, the creation of "problem statements" for each group of participants, and the continuous support of the idea adjudged best throughout the incubation program immediately following the competition.
The other current AUK student who is a Lelav executive, Fatima Ahmed, almost without any delay acted on the new partnership between Lelav and CAPA. On March 2, she was one of the panelists for the CAPAi Design Thinking Tech Bootcamp panel discussion, alongside Dr. Randall Rhodes and Dr. Dara Sherwani of AUK, Dr. Azad Najar of KII, and (remotely) Raffi Simonian of UCLA. On that panel, she made a remark making clear both her understanding of the upcoming bootcamp's merits and the need for the lifelong learning CAPA endlessly promotes: "A tech bootcamp can provide a structured approach for problem-solving and critical thinking. You need to keep learning."