Introducing the Inaugural Course on Kurdish Sign Language Interpreting at AUK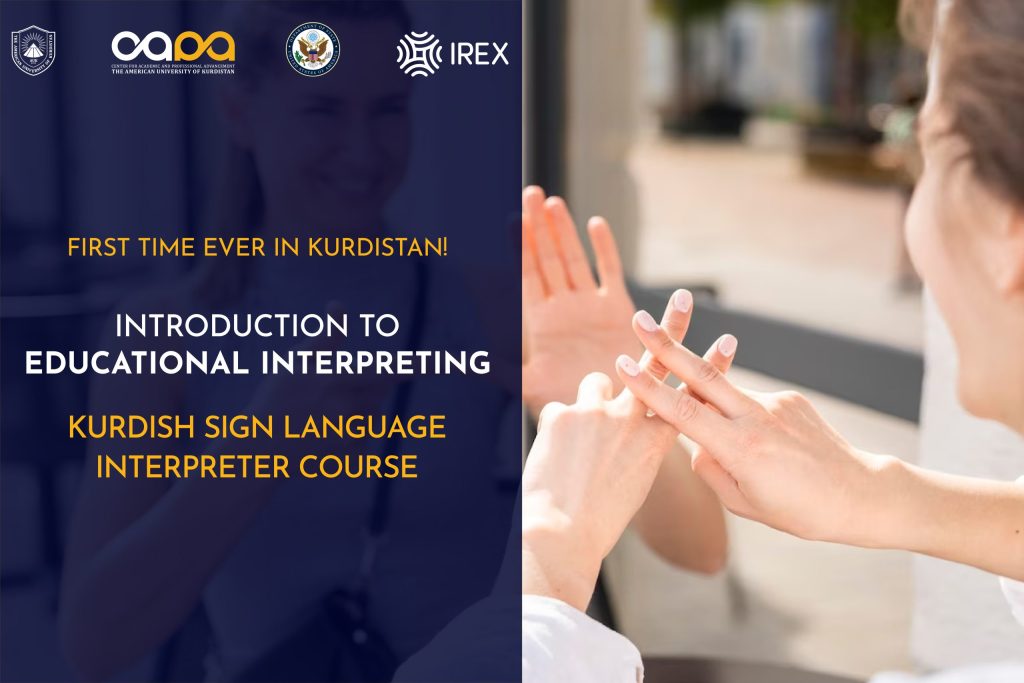 The American University of Kurdistan is excited to introduce the very first Kurdish Sign Language (KuSL) pilot course though the Center for Academic and Professional Advancement (CAPA). This groundbreaking course aims to equip individuals with the fundamental skills needed to excel as interpreters in educational settings involving deaf and hearing consumers.
The Kurdish Sign Language Interpreter course will provide students with a comprehensive understanding of the ethics, roles, and responsibilities of Kurdish Sign Language Interpreters. Participants will delve into the core vocabulary used in K-12 subjects, allowing them to familiarize themselves with educational interpreting scenarios. The curriculum covers various interpreting techniques applicable to diverse situations, enabling students to develop a versatile skillset.
This course goes beyond technical skills and also delves into cultural aspects. Students will gain insights into Kurdish Deaf Culture and the historical evolution of sign languages globally. By deepening their understanding of these facets, participants will become strong allies of the Kurdish Deaf Community, fostering an inclusive environment.
This course offers immense value to individuals connected to the Deaf Kurdish community. Friends, family members, and colleagues interested in learning about the interpreting profession will find it particularly insightful. Furthermore, current Kurdish Sign Language interpreters seeking to enhance their skills will also benefit from the program.
Thanks to the generous support of the U.S. Embassy in Baghdad and key partners including IREX, the Kurdistan Regional Government U.S. Representation, Tarrant County College, and the Kurdistan Deaf Association – Duhok, this course is available to students free of charge.
Course Details:
Language of Instruction: Badini and Kurdish Sign Language (KuSL)
Start Date: October 8, 2023
End Date: November 29, 2023
Schedule: Sundays, Mondays, Tuesdays, and Wednesdays, from 5:00 PM to 8:30 PM
Duration: 112 hours
Deadline for Applications: September 16, 2023, at 11:59 PM
Don't miss this extraordinary opportunity to be part of a pioneering effort in promoting linguistic and cultural inclusivity. Apply now by following the link provided below. Let's work together to create a more inclusive and accessible educational environment for all.