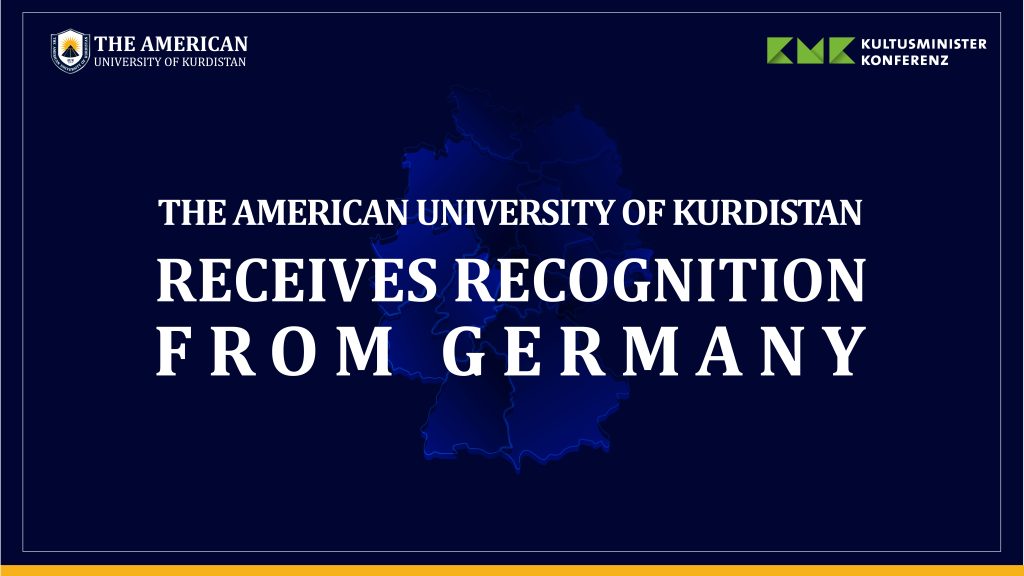 Duhok, Kurdistan Region of Iraq – 22nd October 2021 – The American University of Kurdistan (AUK) has been awarded the formal recognition of the German Central Office for Foreign Education (ZAB). Resultantly, AUK graduates are now able to have their certificates considered for employment, or post-graduate studies, in Germany.
The AUK has been added to the ANABIN database on ZAB's portal, "Anerkennung und Bewertung ausländischer Bildungsnachweise" (Recognition and evaluation of foreign educational certificates), which operates under the supervision of Germany's Ministry of Culture. AUK is listed among international universities and institutions whose curricula are recognized in Germany.
ANABIN lists foreign degrees and higher education qualifications in relation to German diplomas and degrees, providing a decision-making basis for authorities and universities in Germany in recognizing AUK's certificates. The information offered enables employers to assess AUK graduates' qualifications.
German accreditation provides our students with the right to a German Work Visa, Job Seekers Visa or German Blue Card, as success depends on successfully proving a university-level qualification on par with German standards.
In the seven years since its establishment in 2014, AUK has achieved accreditation by the Ministry of Higher Education of the Kurdistan Regional Government and the Ministry of Higher Education in Iraq. It is currently seeking U.S. accreditation through The New England Commission of Higher Education (NECHE).
Having achieved recognition in Germany, AUK now offers its students new career opportunities in one of the world's leading economic and industrial countries.
The AUK stays committed to raising higher education standards in the region and providing its students with opportunities afforded to those of internationally respected universities.