Demo Day at AUK for Five One Labs' Young Entrepreneurs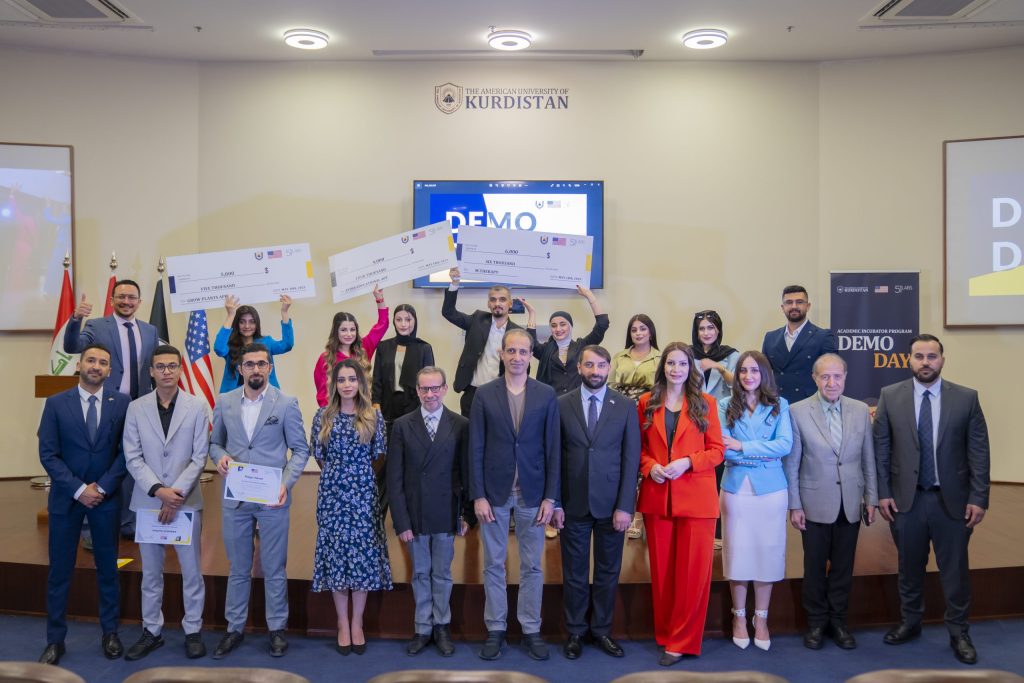 On May 18, the American University of Kurdistan (AUK) hosted young entrepreneurs representing various universities in the Duhok Governorate for "Demo Day." The entrepreneurs, having completed a year-long program with Five One Labs and the American University of Kurdistan, pitched their business ideas in the AUK Auditorium, to CEOs, representatives of the U.S. Consulate General in Erbil, and university presidents. The United States Department of State Grant titled "Supporting American-Style Higher Education in Iraq" funded the program, aimed at promoting entrepreneurship among university students.
Awaz Saeed Shawkat of Five One Labs hosted the event. Introductory speeches were provided by Dr. Randall Rhodes, AUK President, and Ali Paracha, Five One Labs Country Director. The seven presenting teams went to the stage one at a time, using the large screen to present their business ideas (sometimes with active QR codes) and then facing questions. The first group was PharmaDel. Its product was an app facilitating medicine delivery. Rebare Adam, a trilingual tourism app for Kurdistan, was next. M.Therapy presented a mental health app, valuable both for its intrinsic usefulness and its role in eroding local stigma around seeking mental health support. WPC championed a "green" idea, whereby cooler pads would be generated from recycled wood and plastic. The fifth business idea, Grow Plants, featured an app streamlining communication between the primary economic sector, agriculture, and the tertiary one, service. EM. Academy was sixth, and it concerned the delivery of skill development courses for university graduates and those in the professional sector. Astra was the final group and the sole AUK representative; it sought to introduce an improved online educational platform for grades K-12.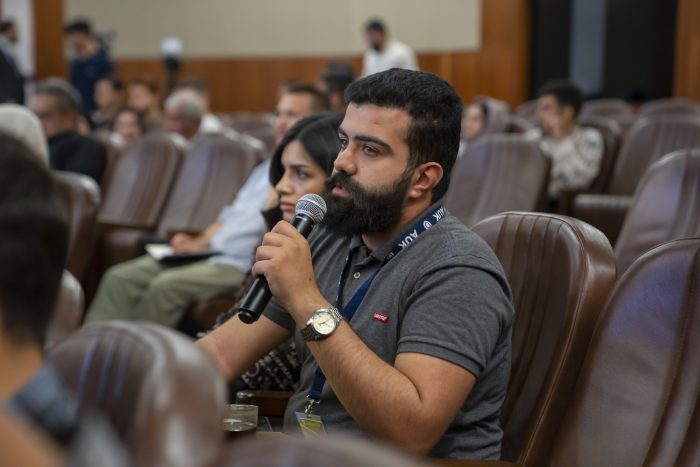 All of the young entrepreneurs who presented on stage received certificates of participation. Mentors and coaches who participated in the year-long program received awards. Then, it was time to reveal the three groups judged to be most deserving of the "seed money" prizes. AUK's own Astra took third place and, with it, a $4000 check. Grow Plants, representing the University of Zakho, won second prize and $5000. The winning team, M.Therapy, from the University of Duhok, received $6000 in funding. The seed funding was provided by the U.S. Department of State Grant.
Such programs are very important to inspire young entrepreneurs and provide them with coaching by successful leaders in the private sector. In time, the young entrepreneurs, too, can play a pivotal role in the ongoing development of the private sector in Kurdistan.