AUK's CAPA Presents a Version of CAPAx at Zakho University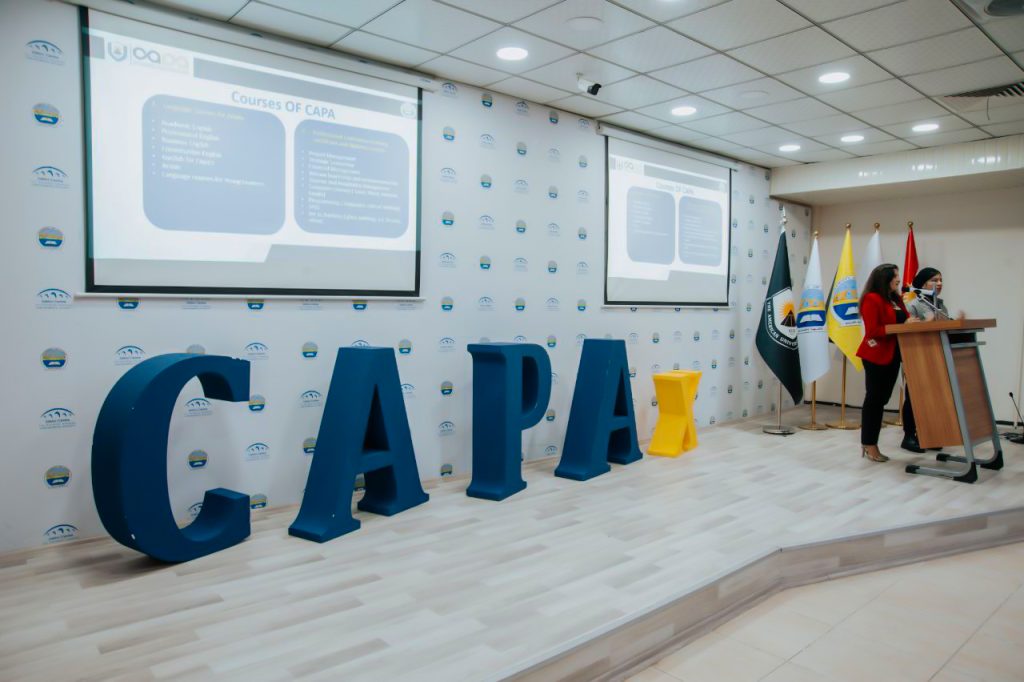 On March 6, the Center for Academic and Professional Advancement (CAPA) of the American University of Kurdistan (AUK) held an event at Zakho University, branded "CAPAx." CAPA had successfully put on two CAPAx events at its AUK home base, in 2022 and 2023, and it has now successfully transplanted that event to another academic institution. In the Zakho version of CAPAx, three students who had presented at 2023's CAPAx at AUK took the stage once more, showing how far their capabilities and confidence in the English language had come as a result of their study with CAPA. The event formally introduced CAPA programming to the Zakho community, bringing to the forefront student abilities augmented by that programming.
The Provost of the American University of Kurdistan, Dr. Nazar Numan, spoke to the audience about the importance to Zakho of the lifelong learning and ongoing professional development CAPA offers. In his own words: "Lifelong learning is important in everyone's life, and we thank Zakho University as a partner allowing us to extend such education to the Zakho community." Mrs. Loucine Hayes, Director of CAPA, engaged the audience with an overview of CAPA's mission and its many course offerings, meant to address all aspects of community development rather than being limited to language instruction. Mrs. Hayes placed emphasis on the critical thinking skills intentionally built up through all CAPA courses and called upon so often in the contemporary world of work. Dr. Nadhim Sulaiman, President of Zakho University, for his part, explained to his community the importance of this event and the broader cooperation with CAPA it inaugurates: "By becoming partners with CAPA, we are working together for Zakho's community… I encourage all of you in the audience to be a part of this family and convey the message to other enthusiasts, so they get the best educational services from CAPA."
The student presentations, the core of CAPAx, came next. Areen Omer, the winner of 2023's CAPAx at AUK, delivered her economy-building call to "shop local to grow your community" to a new audience, with the same championship poise. Next, Chirakhan Faraj, runner-up at the recent AUK CAPAx, told those in Zakho to "do something drastic, cut the plastic," thereby sending an environmentally sound message that would be appropriate everywhere. The final student presenter was Mohammed Omar, and he explained that since "the sun is a big battery" and Kurdistan has 300 sunny days each year the region should ramp up its solar energy reliance. Impressed audience members had questions for the speakers, which they happily answered. The excellent presentations and their positive reflection on CAPA itself inspired many in Zakho to inquire directly with the CAPA Front Desk about course enrollment.
The Center for Academic and Professional Advancement, already at an institution in its own right at the American University of Kurdistan, is now fully operational in Zakho. The CAPAx event on March 6, showcasing three students who had enhanced their knowledge through CAPA study, indicated as much. If you are in Zakho and wish to improve your skills in English, Excel, graphic design, and many other fields, CAPA at Zakho University is just a phone call, message, or short walk away.