AUK Observes National Clothing Day and Silence for Halabja Massacre Victims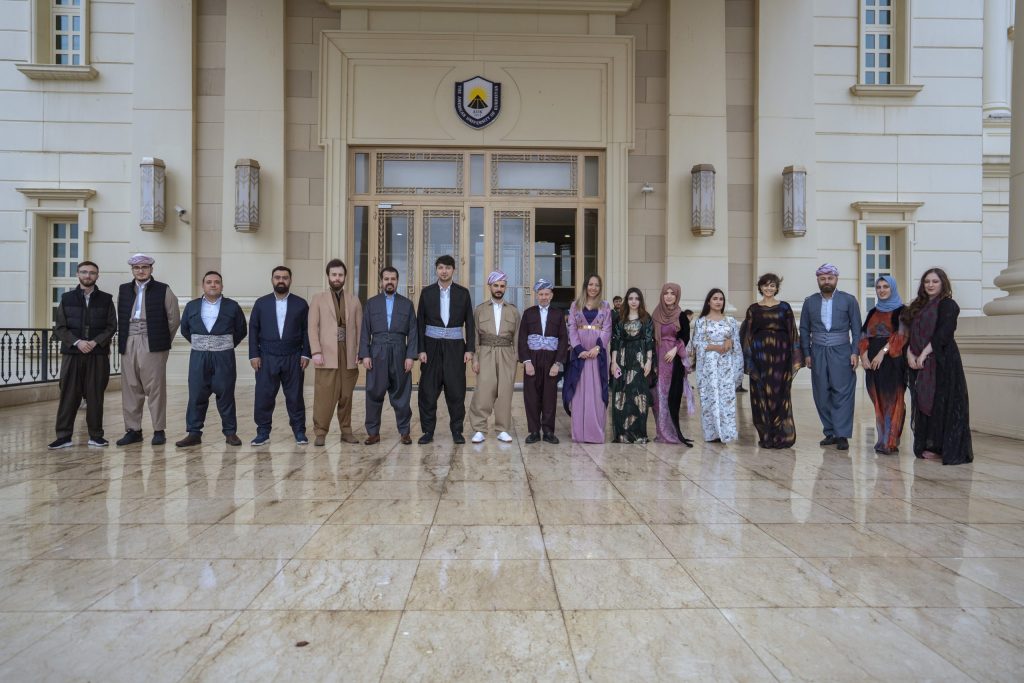 The American University of Kurdistan (AUK) had two special observances on March 16. One was National Clothing Day, the other the commemoration of the Halabja Massacre.
National Clothing Day actually fell on March 10, but, as that was a Friday, AUK students, faculty, and staff chose to display their traditional clothing on March 16. Muslim Kurds form the majority in Kurdistan and at AUK, but part of the beauty of National Clothing Day is that it allows a survey of the demographic diversity of both the region and the AUK community. Muslim Kurds, Yazidi Kurds, Assyrian Christians, and Arabs were all encouraged to wear their characteristic costumes; the indiscriminate sharing of "photo ops" confirmed Kurdistan's general interethnic harmony. International members of the staff also participated, adding to the pageantry. The Nigerian faculty member of the College of Business, Dr. Agwu Okechukwu, wore a West African outfit, and AUK President Randall Rhodes and Director of Advancement Manal Issa, in a show of solidarity, both donned Kurdish attire.
At precisely 11 AM, the AUK community committed to a minute of silence to honor the victims of the attack on Halabja on its 35-year anniversary. On March 16, 1988, also at precisely 11 AM, there was a chemical weapon bombardment of Halabja by Iraqi armed forces, frustrated at their military stalemate with Iran and scapegoating Kurdish noncombatants. The victims numbered approximately 5000. AUK student volunteers arranged Kurdish flags to fill the front lawn, each commemorating a life lost in the tragedy. Members of the AUK community stood in between these flags, appropriately silent and somber.
The joining of the two observances highlighted the contemporary freedom to express Kurdish identity and the peaceful coexistence among various groups of people in Kurdistan. The 1988 chemical assault on Halabja was an effort to eradicate said freedom, to force Kurds into submission to the oppressive Baathist regime. Today, Kurds enjoy an unprecedented degree of autonomy, with which they express and celebrate their traditions. Such respect for traditions is also a defining feature of the institutional culture of the American University of Kurdistan.