AUK Hosts Engineering Students from Several Universities for Research Poster Competition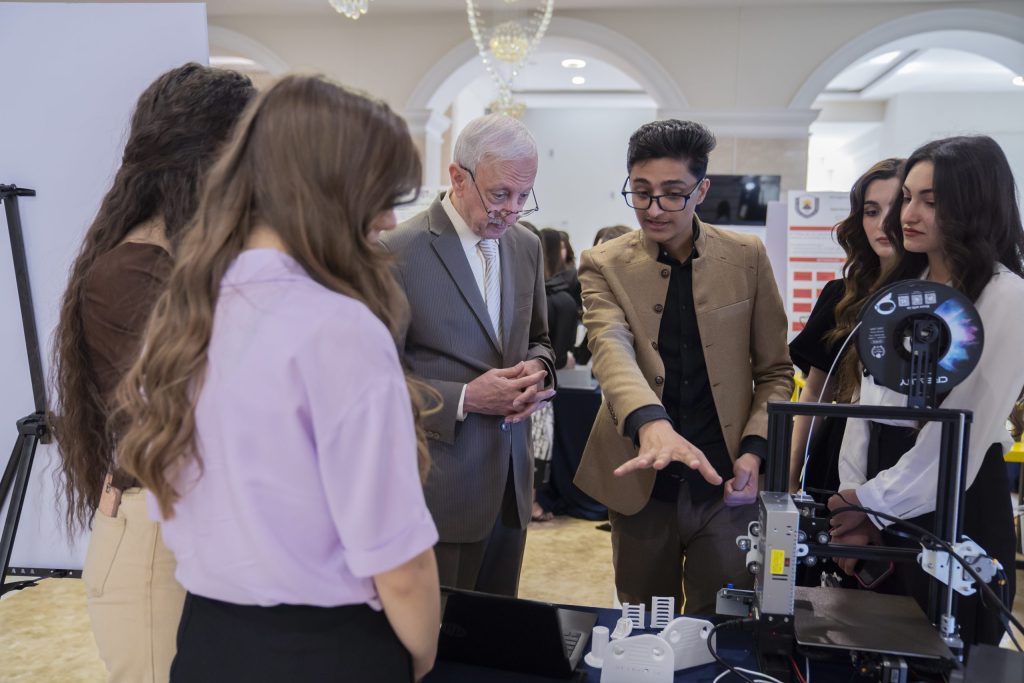 On May 2, the American University of Kurdistan (AUK) hosted the Engineering Research Poster Competition (ERPC). Students from AUK and four other universities, the University of Duhok, Duhok Polytechnic University, Soran University, and Erbil Polytechnic University, displayed posters (and, in some cases, additional models) on their research projects. There were 20 projects in total, and it was the task of the judges to circulate among the contestants and evaluate, through inspection and interviews, the quality of their research.
The 20 projects were varied. There were three on monitoring systems: for water quality, indoor plants, and seismic activity. One was on radiology at hospitals, and another was on installing 5G technology in ambulances to get patients the fastest relief possible. Two were on making bus services in Duhok more efficient. Another envisioned high-altitude balloons to carry wireless communication to mountainous settlements. Two were on oil drilling. Automation was the unifying thread for projects about self-driving cars, biometric door-locks, ordering at a restaurant, and scheduling government appointments. Two were on eco-friendlier forms of concrete. The two remaining projects concerned a mental health app and 3D printing.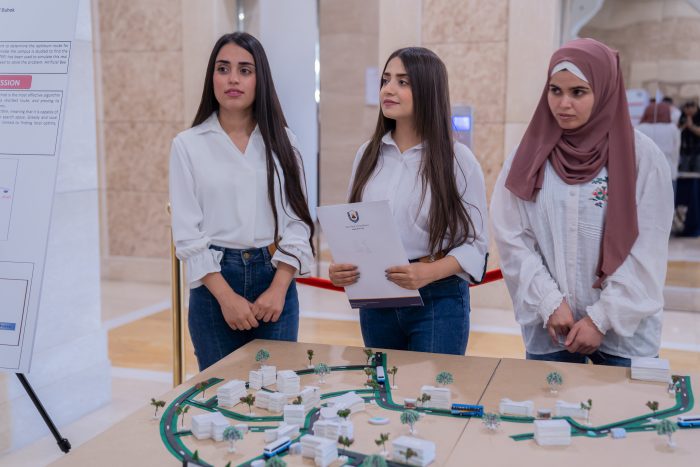 After two hours of presenting their research, the contestants joined attendees in the AUK Auditorium for a formal event. Dr. Razaq Ferhadi, Dean of AUK's College of Engineering, delivered the welcoming address. Dr. Nazar Numan, AUK Provost, discussed the importance of innovation and creativity (as he put it, "the crescendo of critical thinking") necessary for research. Dr. Omar Abdulghafoor, Chair of AUK's ETE Department, spoke of student club involvement with IET (the Institution of Engineering and Technology) as "a great step toward achieving professional registration." Through these efforts, AUK now has the first "IET on Campus" in the Kurdistan Region – and all of Iraq. There was also a guest speaker, Dana Wirya, Cyber Security System Manager at Korek Telecom. The title of his presentation was "Protecting Your Digital Life: Practical Tips for Staying Safe from Cyber Threats." While engineers are concerned with the technical matters of anti-scam security measures, we all need to be aware of the threat.
Dr. Randall Rhodes, AUK President, took the stage after all the talks were done. He first gave a silver commemorative plaque to Mr. Wirya, the guest speaker. He next presented prize checks to the three projects judged to be the best. An AUK project took third place: "Innovating Water Quality Monitoring with Arduino-Based Sensors in Duhok City." Second place went to a team from Soran University: "Experimental Investigation on the Effect of Potato Nano-Biopolymers on the Filtration Properties of the Drilling Fluid." Students from Duhok Polytechnic won the grand prize for "Recycled Plastic as Additive Material in High-Strength Concrete."