AUK Delegation Visits Chamishku IDP Camp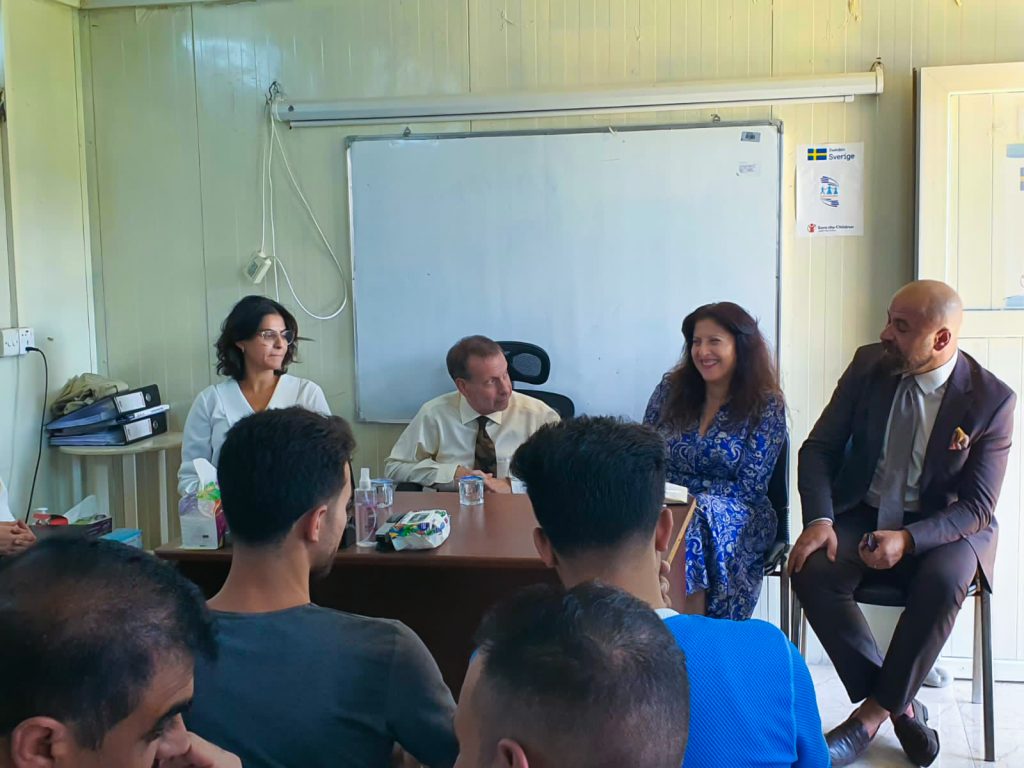 Duhok, Kurdistan Region – August 28, 2023 – Members of The American University of Kurdistan (AUK) paid a visit to the Chamishku IDP Camp in Zakho to meet with administrators and activists, as well as camp residents themselves, to observe first-hand the repatriation, rehabilitation, and reintegration efforts.
The Barzani Charity Foundation (BCF), which oversees the management of the camp, was the first stop for the AUK delegation led by Dr. Randall Rhodes, President of the University. The basic camp conditions, including information regarding employment within the camp, medical services, and water quality issues, were discussed. The camp directorate further stressed that no action plan for the repatriation of IDPs could be made because of the unresolved political situation in Sinjar.
The "Hivi' Group" then introduced itself and its accomplishments over the past nine years of volunteer work. Their involvement includes fundraising, setting up training sessions with NGOs, running humanitarian aid initiatives, planning events and religious festivals, and supporting the launch of new small enterprises, among many other things. In light of this, Ms. Loucine Hayes, Director of AUK's Center for Academic and Professional Advancement (CAPA), added the prospect of AUK supporting classes in computer skills and English language, and in providing additional pedagogical training for teachers.
Also, on the visit was "Mother Sham", a woman who lost more than 30 family members during the ISIS war in Sinjar, including five of her sons and both of her daughters and who killed themselves after being captured and sold into slavery. She currently resides with one son and her grandchildren. She serves as a symbol of the Yezidis' tenacity and persistence.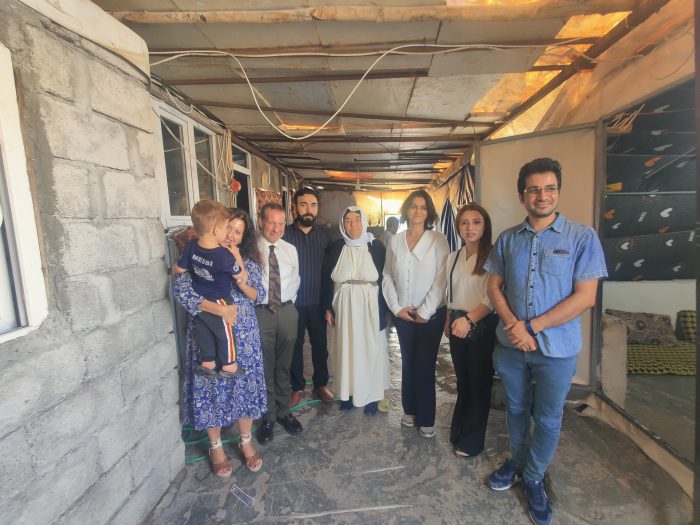 At last, the AUK delegation, including Ms. Manal Issa, AUK's Vice President for Advancement and Mr. Halmat Kestai, Manager of AUK's social responsibility program AUK Cares, visited one of the larger schools in the camp that accommodates 1,600 students across three shifts, and discussed the need for more scholarship opportunities to bring each year's top students to AUK.
Young Yezidi entrepreneur Shukria Khalaf, who earlier this year delivered a seminar at AUK on her survival and success story, organized this visit to the Chamishku IDP camp. She was awarded a scholarship from AUK to take English language classes at CAPA, and Shukria has already passed her first level.