A New Faculty Member's Perspective on the First Day of Classes at AUK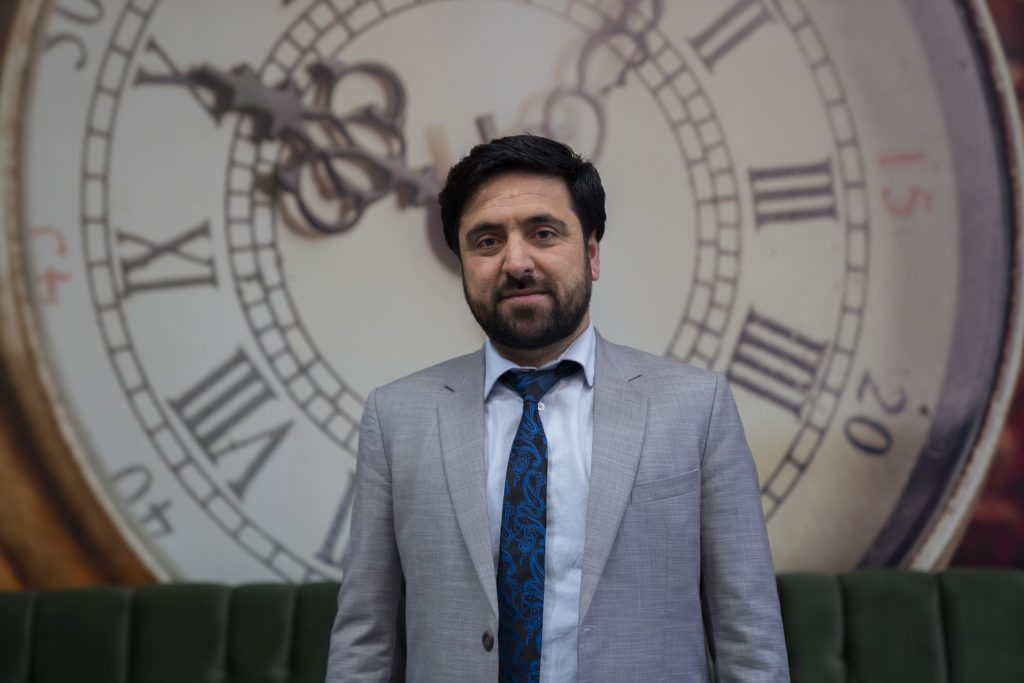 Mr. Ali Shinwari is a Lecturer at the American University of Kurdistan (AUK), and the initial day of classes in the Spring semester, January 15, was special for him: Mr. Shinwari taught his first two classes at the university. He is an experienced faculty member in the field of computer science and started working at AUK for the Fall semester of 2022. He spent that first semester working within the Office of Institutional Effectiveness and Planning (OIEP), doing data collection and analysis, rather than instructing.
For the Spring semester, Mr. Shinwari has a load of 3 courses: "Computer Ethics," "Computer Literacy," and "Visual Programming." After the exhilaration of the first two classes, he caught his breath, calmed down from first-day jitters, and began preparing his materials for the next day. He graciously offered his time to speak on what he had experienced.
Did you feel like an AUK instructor even before today, or did you finally feel like one for the first time today because you actually had live students in front of you?
Ali Shinwari:
"Honestly, I did not fully feel like an AUK instructor until today, because I was not responsible for any classes. But I did feel comfortable and welcome at AUK in my earlier work, and my earlier work did have some connections to academics. I was certainly comfortable as an instructor at the university level because I am richly experienced with such work, so after just a few minutes it was business as usual."
What went exactly as you had expected, and what did not go according to expectations?
Ali Shinwari:
"I was in the same classroom I was told I would be in, and, importantly for Computer Science and Information Technology, it was equipped precisely as I thought it would be. So, my tools were in place. Something that did not go exactly according to expectations was attendance. For one of my classes, I had a roster of 30 students, but only 12 were present on the first day. I can understand that it may take a few days for everyone to get back on campus and get situated in their new classes."
How do you think things will be different for the course you did not have today?
Ali Shinwari:
"The two courses that I had today were more basic computer ones, belonging to General Education. The course I will have for the first time tomorrow, 'Visual Programming,' is more advanced and specialized, for students majoring in Computer Science and Information Technology."
You should be excited to teach all of your courses this semester, but which course are you most excited about teaching and why?
Ali Shinwari:
"I am most excited about teaching 'Visual Programming' because I have plenty of experience in that area from my earlier teaching roles. It is a very practical course, and computers are, after all, about making life easier and more practical for people."
What is one thing you learned today yourself?
Ali Shinwari:
"Today I learned that the students of AUK are even brighter than I had anticipated and they have a real zeal for learning."
The American University of Kurdistan is constantly evolving, and that evolution entails new faculty members leading courses on the cutting edge of their disciplines. Ali Shinwari spent the entire Fall semester contributing dutifully to the AUK mission through his data work with OIEP, and he was excited and gratified to return to the classroom as soon as the Spring semester began. On January 15, it was evident he was not the only faculty member glad to feed off the energy of the AUK student body, but since it was his debut in a teaching role the day must have been particularly special for him. If he teaches students with the same dedication he displayed as a data analyst for OIEP, his time in the classroom at AUK will surely prove to be exciting and professionally rewarding.