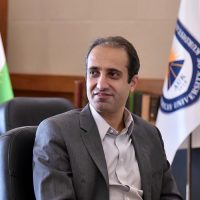 Dr. Honar Issa
Secretary
Dr. Issa has been actively engaged with the American University of Kurdistan (AUK) since its establishment in 2014. He served as the first-ever Provost of AUK during 2016-17. Prior to that, he served as a Member of the Board of Trustees, working diligently to assist the establishment phase of the university during 2013-16.
He is one of the founding members of AUK's Board of Trustees, where he played an instrumental role in bringing the university into existence.
Prior to joining AUK, Dr. Issa helped to establish the Faculty of Engineering at Soran University in the Kurdistan Region of Iraq, where he served as Dean in 2012-13.
Dr. Issa taught structural engineering at the University of Duhok (2015-18) and the University of Salahaddin (2004-06, 2012-13), both in the Kurdistan Region of Iraq. He also taught at Nottingham Trent University in the U.K. during 2007-11.
His research interests are structural optimization and bio-mechanics. He has published articles, scientific papers and op-eds in various (national and international) journals and websites. Dr. Issa has been a keynote speaker at international conferences across the globe. He is one of the founders of the Kurdistan-America Student Friendship Association (2003), acting as Chair of the Governing Board.
Dr. Issa received a B.Sc. in Civil Engineering (2002) and M.Sc. in Structural Engineering (2006) at Salahaddin University. As a top student, he was granted the Prime Minister's Merit Scholarship for his doctoral studies. He was awarded a Ph.D. in Structural Engineering from Nottingham Trent University, UK (2010).