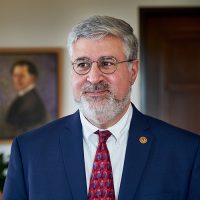 Dr. Fadlo Khuri
Member
Dr. Fadlo Khuri is the 16th President of the American University of Beirut (AUB) and Professor of Medicine (hematology and medical oncology) at the Faculty of Medicine and the Medical Center. He assumed office on September 1, 2015. Prior to joining AUB, he served as Professor and Chairman of the Department of Hematology and Medical Oncology, Emory University School of Medicine, where he held the Roberto C. Goizueta Distinguished Chair for Cancer Research. He also served as deputy director for the Winship Cancer Institute of Emory University and was the Executive Associate Dean for Research at the Emory University School of Medicine.
Dr. Khuri earned his undergraduate degree at Yale University and his Medical Doctorate at Columbia University, College of Physicians and Surgeons. He completed his residency in internal medicine at Boston City Hospital and a fellowship in hematology and medical oncology at the Tufts-New England Medical Center. He was on the faculty of the University of Texas M.D. Anderson Cancer Center from 1995 to 2002, prior to joining Emory University and the Winship Cancer Institute in 2003.
Dr. Khuri has authored over 400 peer-reviewed articles, over 50 editorials and perspectives in leading journals, and over 100 reviews and chapters. He has served for the last six years as editor-in-chief of Cancer, the oldest and one of the most prestigious journals in the field.