Speech on "Black History Month" by US Consul General for Basrah at AUK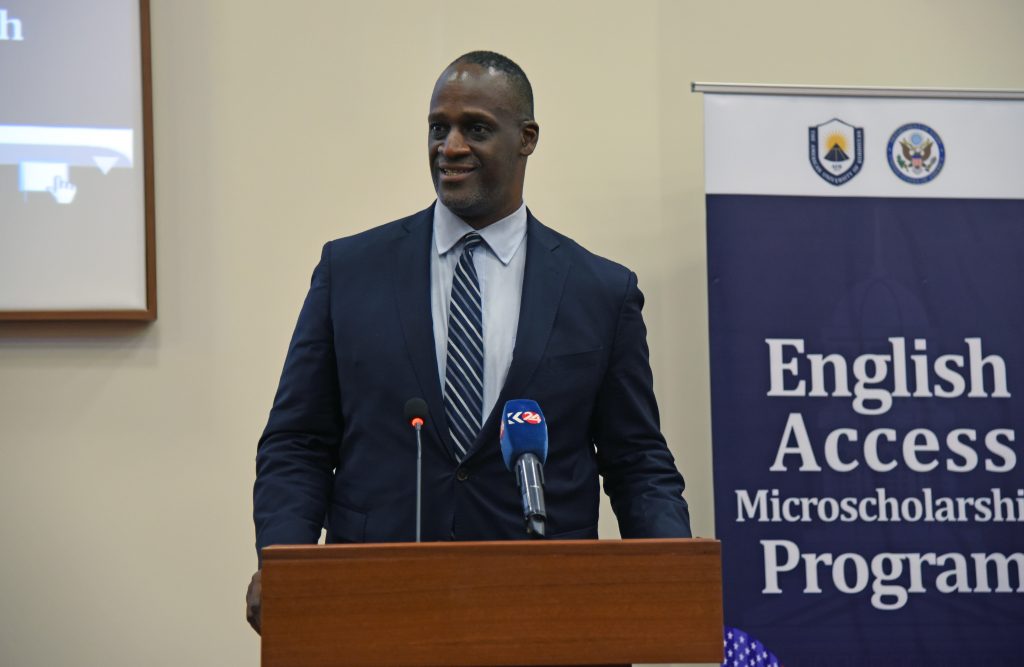 Duhok, Kurdistan Region of Iraq – February 18th, 2019- The US Consul General for Basrah, Mr. Timmy Davis visited the American University of Kurdistan as a part of a cultural and educational tour of Kurdistan and delivered a speech on Black History Month.
February marks Black History Month, a tribute to African-American men and women who have made significant contributions to America and the rest of the world in the fields of science, politics, law, sports, the arts, entertainment, and many other fields.
The event took place in AUK's auditorium and was attended by local dignitaries, representatives of other universities, the Micro-Access Program students, AUK students of the College of International Studies, as well as AUK staff and faculty members and staff from the American International School.
AUK Provost Dr. Nazar Numan opened the event with a welcome speech, followed by five Micro-Access Program students (Kovan Karam, Jardel Mohammed, Sham Mohammed, Jwan Anas, and Ahmed Younis) reading "I, too", a poem by Langston Hughes. That was followed by Avahi Barzani, a student of College of International Studies reading a piece from Martin Luther King.
US Consul General for Basrah, Mr. Timmy Davis started his speech comparing the struggles of African-Americans with the people in Kurdistan "The struggle of African-Americans is nothing like the struggles of every day in Kurdistan." He said, "I believe, what is most necessary for individuals to work on inclusions, to work on conversations with people who are not like you."
After the speech, AUK's students of International Studies engaged in a long question and answer session with CG Davis.
Black History Month, also known as African-American History Month in the U.S., is an annual observance in Canada, Ireland, the Netherlands, the United Kingdom, and the United States. It began as a way of remembering important people and events in the history of the African diaspora. It is celebrated annually in the United States and Canada in February, as well as in the United Kingdom, the Netherlands and Republic of Ireland in October.