Gary Kent, director of UK's APPG for Kurdistan, gives a talk in AUK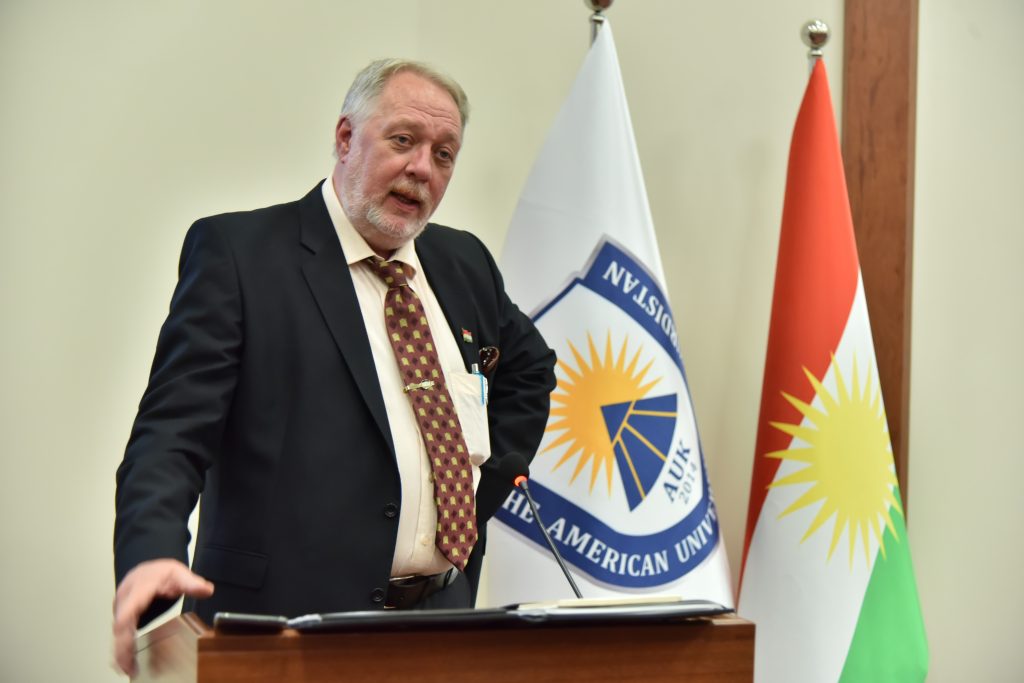 Duhok, Kurdistan Region of Iraq – October 22nd, 2018- Gary Kent, the director of the UK's All-Party Parliamentary Group for Kurdistan (APPG), visited the American University of Kurdistan for a talk at 2:00 pm in AUK's auditorium.
In the presence of President John Menzies of AUK, Provost Nazar Numan, Dean of College of International Studies Dr. Albert Wolf and the Director of Center for Peace and Human Security of AUK Dr. Paul Philippe, Gary Kent presented the most recent report of UK's All-Parliamentary Party Group on Kurdistan. "For a lot of British people, when we mentioned Kurdistan they'd give you this puzzle look, 'Do you mean Kirgizstan? Do you mean Kazakhstan? So there was a fundamental confusion about where it was, and when we were explaining the geography, we would mention the word Iraq, and they would respond with 'Do be careful when you go there!' That's why putting Kurdistan on the map was important." stated Gary Kent during his speech.
Gary Kent is the Director of the UK's All-Party Parliamentary Group (APPG) on the Kurdistan Region and has visited Kurdistan and Baghdad 19 times since 2006, having previously been active for two decades on Northern Ireland politics. He is also a weekly columnist for Rudaw Media Network's newspaper and website, a member of the Kurdistan Genocide Task Force and a Director of the European Technology and Training Centre in Erbil.
"Mr. Kent shared several critical insights with us regarding the present and future of Kurdistan, from the challenges of rentierism to the various security predicaments it faces on a daily basis.  We hope he will visit us in the future to share his insights about developments in the KRG as the new government in Baghdad comes into formation." stated Dr. Albert Wolf, Dean of AUK's College of International Studies.
All-Party Parliamentary Groups (APPGs) are informal cross-party groups that have no official status within Parliament. They are run by and for Members of the Commons and Lords, though many choose to involve individuals and organisations from outside Parliament in their administration and activities.