COMMENCEMENT 2021: AUK awarded 117 graduates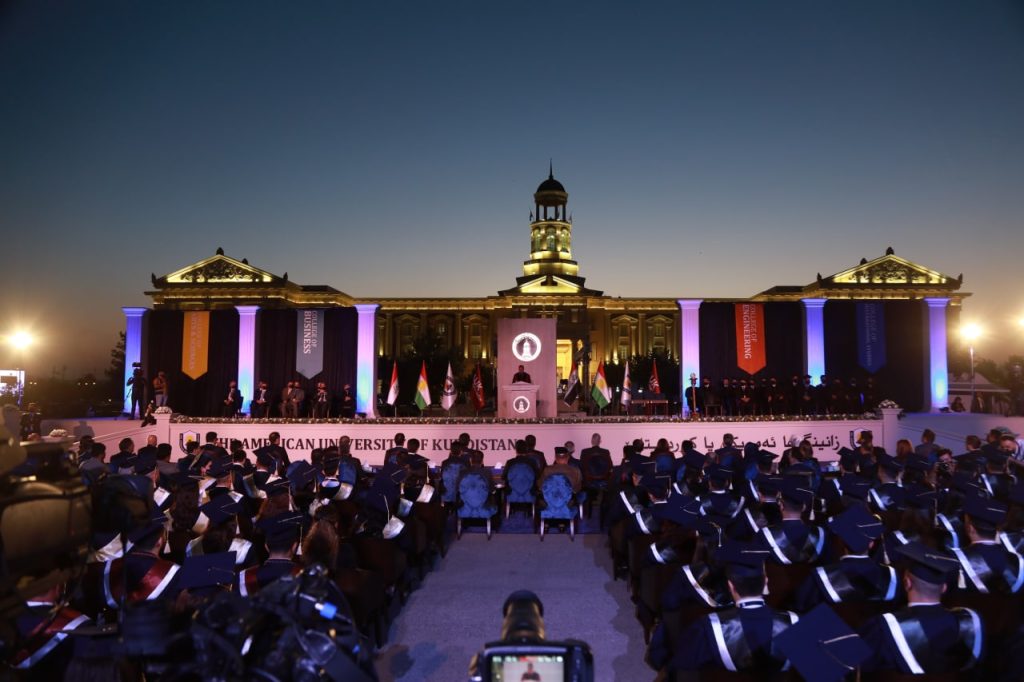 Duhok, Kurdistan Region of Iraq – June 24th, 2021 – The American University of Kurdistan held its second commencement ceremony on Sunday, June 20th, 2021, awarding students who have completed their bachelor's degree requirements in 2019, 2020, and 2021. The event was attended by the President of the Kurdistan Region of Iraq, H.E. Nechirvan Barzani, the Prime Minister of the Kurdistan Regional Government and AUK's Chairman of the Board of Trustees, H.E. Masrour Barzani, U.S. Ambassador to Iraq, H.E. Matthew H. Tueller, parliament members, ministers, diplomats, members of AUK's Board of Trustees, faculty members, staff and families of the graduates.
Due to Covid-19 and the Kurdistan Region Government's gathering and social distancing restrictions over the past 14 months, multiple graduating classes were celebrated in one greater event; that was only made possible through the support of Dr. Rania Majeed, Chairwoman of the AUK Foundation.
Considering the pandemic, one of the strict measures the organization committee applied to the ceremony has been the COVID test, which made the event completely covid free. All attendees were tested negative for COVID by either bringing a test result of a minimum of 72 hours before the ceremony or taking a rapid test on campus, which enabled accommodating more attendees.
After the processional and live performance for the national anthems of Iraq and KRI, Dr. Randall Rhodes, President of AUK, held his opening speech, in which he acknowledged the efforts of the AUK faculty, staff, and the students' families and friends whose support over the years have been instrumental in the students reaching the culmination of their bachelor's studies.
Following AUK President's welcoming remarks, the floor was handed over to the President of the Kurdistan Region of Iraq, H.E. Nechirvan Barzani, for his speech.
"School and education are the foundations of any society. Great societies, nations, and countries are those that have high standards of education and training. We in the Kurdistan Region need such great schooling and education more than anything else, H.E. stated and urged AUK graduates to "make use of knowledge and skills in the service of your country."
While the President of the KRI focused on the educational system, Ambassador Matthew H. Tueller urged on making changes in his speech "I see a group of students that have overcome quite a bit of adversity. We've all had to make dramatic changes in our lives, and of course, many of us have experienced firsthand the tragic effects of this terrible pandemic." H.E. Ambassador Matthew H. Tueller stated in his speech. "But you who are graduating here tonight, have to ensure that we learn from this common struggle and that we emerge stronger, more resilient and more committed to a future that recognizes our common humanity," H.E. added and noted that the U.S. government is a firm supporter of AUK and its students.
Following H.E. Ambassador Tueller's remarks, Prime Minister of the Kurdistan Regional Government and AUK's Chairman of the Board of Trustees, H.E. Masrour Barzani, shared his initial vision of an institution that would be a model in the region, dedicated to enhancing the quality of education and, in return, the quality of life and well-being of people in the region and stated "The American University of Kurdistan strives to deliver excellence in education and has provided students with the academic training to develop disciplinary knowledge and soft skills. More importantly, during the academic careers at AUK, students have developed a sense of ethics and social responsibility integral to my vision of Kurdistan as being an exemplar of democracy and justice for the Middle East."
Next was the conferral of degrees by AUK President Dr. Randall Rhodes and AUK Provost Dr. Nazar Numan. One hundred seventeen graduates, 50 from the College of Business, 34 from the College of Arts and Sciences, 17 from the College of International Studies, and 16 from the College of Engineering, received their diplomas. This was followed by awarding Excellence diplomas, handed out by H.E. Chairman Barzani, honoring Dunya Kareem of College of Business, who scored the highest GPA among all AUK graduates and had previously earned the highest high school GPA in all Iraq.
While the first commencement ceremony of AUK in 2019 had only one Valedictorian (Tania Junaid), this year, AUK decided to feature one valedictory per college, who would speak about their stories at AUK and their journey to excellence.
The first Valedictorian to go on stage, Reekan Farsat of the College of Arts and Science, highlighted all the difficulties, struggles, and success stories she faced during her studies at AUK. While Fatma Othman of the College of Business mentioned her success as the 3rd President of the Student Government at AUK, working on extracurricular activities and maintaining a top GPA (Summa Cumlaude) at the same time.
The Valedictorian of the College of Engineering, Herish Badal Basy, who also belongs to the minority group of Yazidis, highlighted his struggle in his study journey before AUK by stating, "I dropped out of high school and another university before coming to AUK, but this place changed my life and built me as a whole."
The last valedictory brought the audience to laugh when she mentioned that she was the only woman among my peers in a class called Gender and Politics. Speda Mizuri, Valedictorian of College of International Studies, also said, "When I thought I would be silenced and judged for my gender-driven political philosophies, I was instead empowered by my peers and educators to pursue an educational path focused on the political and social emancipation of women as a necessity for a just and free Kurdistan.".
The event was funded by the AUK Foundation and supported by Qaiwan Group, Kar Group, and Fastlink, and Artin Crown Productions in organizing the real-time media coverage and music program. "AUK broke the followers' growth record on social media when the number of followers on its social media increased by 35% during this event. Thanks to Artin Crown's real-time coverage and AUK's Communications staff that enabled the University to achieve this," Said Bina Qeredaxi, Chief of Staff for the Event and AUK's Communications Director. "I would also like to thank all the dedicated staff and student volunteers who worked restlessly and tirelessly to make this event a great success," she added.
The ceremony was concluded with a concert celebrating the graduates' achievements during dinner, featuring Kurdish singer Karwan Kamil, Iraqi Superstar Rahma Riadh, and leading musicians from Ragreen Music Band.