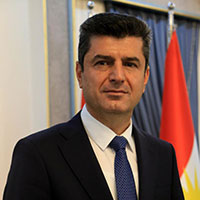 Governor Professor. Ali Tatar
Member
Governor Professor Ali Tatar was sworn in as Governor of Duhok in June 2020, having previously served previously as the Director-General of Duhok's Intelligence Agency from 2002 to 2011. Professor Tatar has performed a wide range of political functions for the Kurdistan Democratic Party (KDP), including head of the student's union and head of party branches in Zakho and Soran. He has been elected a member of the party's leadership board.
Apart from his political career, Professor Tatar is a published author of historical research, journalism and media articles.
Professor Tatar was born into a politically influential family with roots back to the early Ottoman Empire. He joined the Peshmerga forces in 1989 and was captured, tortured, and held in prison by the Iraqi Ba'ath regime, until the Kurdish uprising in 1991. Due to his accession to forefront of the Kurdish freedom movement, he was forced to discontinue his education several times.
Governor Professor Tatar holds Ph.F. in History from the University of Duhok. He was awarded a full professorship of contemporary history in 2018.