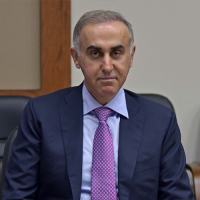 Dr. Sarwar Pedawi
Treasurer
Dr. Sarwar Pedawi is a global inventor, entrepreneur and successful businessman, whose leadership in developing business opportunities has contributed strongly to Kurdish and Iraqi development. Dr. Pedawi is a founding member of AUK's Board of Trustees, playing a constructive role during the University's establishment phase.
Dr. Pedawi is the Founder and Chairman of North Light Holding, based in Iraq and the U.A.E. North Light's interests include ICT, various industrial sectors, healthcare, free economic zones and distribution networks.
Prior to founding North Light Holding, he was the Founder and Chairman of the Ster Group, based in the Kurdistan Region of Iraq, where he played a pivotal role in bringing this group of companies to fruition. Dr. Pedawi served as an engineer in the Dutch army during the first Gulf War in 1991, and later as economic advisor to the President of the Kurdistan Region.
Dr. Pedawi holds several degrees in engineering, management, finance and physical education. He completed his undergraduate degree in Telecommunications Engineering in 1988 in the Netherlands. Later, he completed his postgraduate degree in avionics. Dr. Pedawi also holds a master's degree in banking and finance, and a Ph.D. in Business Administration.