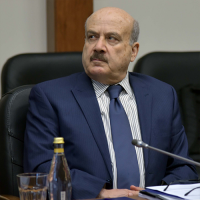 Dr. Mosleh Duhoky
Member
Dr. Mosleh Duhoky has been President of the University of Duhok since 2012. Prior to this, he served as the Dean of the College of Agriculture at the University of Duhok from 2001 to 2010. During his entire academic career, Dr. Duhoky served at different universities in the Kurdistan Region, across a range of academic disciplines. He was elected a member of the Board of Directors at the International Association of Universities (IAU) in 2016. He also served as a consultant and a team leader at FAO's representative office in Iraq.
Dr. Duhoky has published more than 40 academic articles in different national and international journals. Also, He writes articles related to higher education. In 2000, he was granted the title of Professor.
He earned his B.Sc. in Agriculture in 1976 and his M.Sc. in Plant Physiology in 1978 from the University of Sulaimani in Iraq. Dr. Duhoky completed his Ph.D. degree in Cytology at the University of Silesia, Poland in 2000.