AUK announces 48 + 25 new scholarships and a 15% discount on tuition fees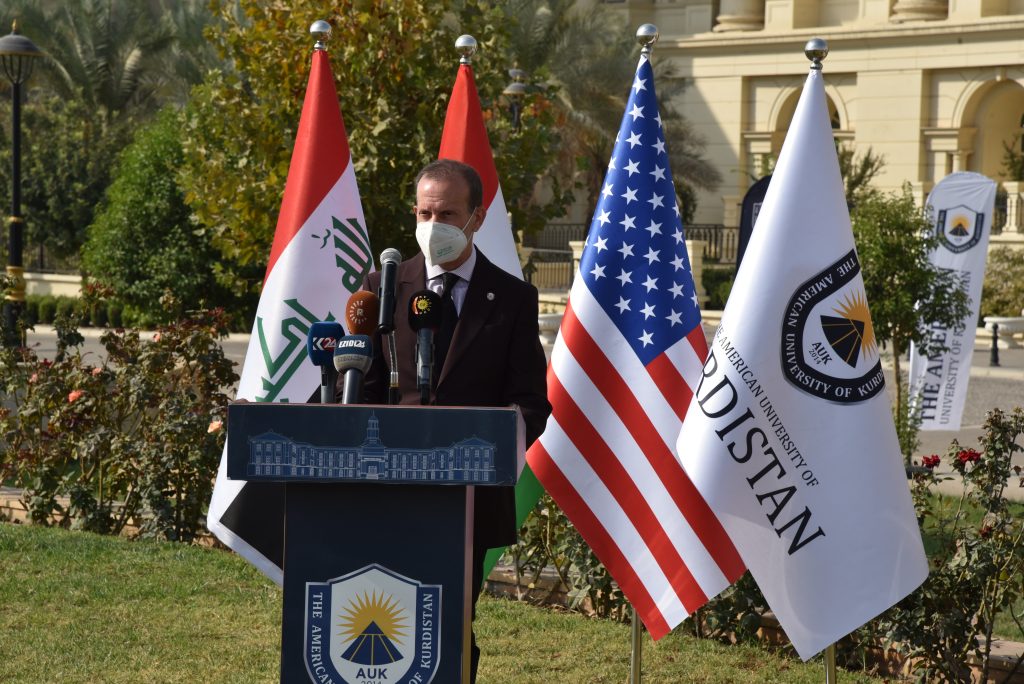 Duhok, Kurdistan Region – October 1st, 2020 – The American University of Kurdistan announces the reduction of its tuition fees by 15%, the offering of 48 scholarships funded by the United States Department of State and 25 more scholarships for Nursing students, funded by the KRG. These scholarships aim to support women and students from underrepresented groups who demonstrate the potential to succeed in the academic programs at AUK and who, upon graduation, will positively contribute to the economic, social, political, and health development of Kurdistan.
The scholarships funded by the United States Department of State provide full coverage for the tuition fees during the duration of the students' academic careers at the University; 38 out of the total 48 scholarships will go to female students from lower-income families, minority and underrepresented groups, 4 to male students from minority and underrepresented groups, and 6 to male students from lower-income families who performed exceptionally well in high school.
"Founded on the American, liberal arts model of education, the AUK believes in inclusion and access to education. The current scholarship program will further the diversification of AUK's student population while opening the door to students who otherwise could not afford to attend the University," stated Dr. Randall Rhodes, AUK President.
To be eligible for one of the U.S. Department of State scholarship, the candidate must meet the following requirements:
· Be a citizen or resident of the KRI (Kurdistan Region of Iraq) or of Kurdish ethnicity residing in a neighboring country to Iraq.
· Submit an essay (in English, Kurdish, or Arabic) narrating a personal commitment to the development of Kurdistan, including the role of ethnic and gender diversity in serving societal progress.
· Submit a complete Application for Admission
· Be admitted and enroll as a full-time student.
The award recipient must maintain a minimum cumulative GPA of 3.00 for the duration of their studies to remain eligible for the scholarship.
Additionally, the AUK would like to announce 25 scholarships now available for students entering AUK's newly opened College of Nursing; these are funded by the Kurdistan Regional Government.
"AUK opening its College of Nursing this year is of great importance not just for Duhok, but for Kurdistan and Iraq in general as we are currently facing a significant shortage of well-trained Nurses," stated Dr. Nizar Ismat, Director General of Duhok Health. "Offering scholarships will hopefully develop our Nursing sector and fill the shortage of skilled workforce," he added.
Also, sensitive to the concerns of our current and prospective students, the AUK will be implementing a 15% discount on its tuition fees effective January, 2021. This discount applies to self-funded students in all AUK academic programs, as below:
Baccalaureate % Annual tuition fees payment Annual tuition fees payment after 15% discount (NEW) Scholarship
98.0 – 100 $0 – Mustafa Barzani Merit Scholarship
90.00 – 97.99 $2,500 $2,250 Chairman Masrour Barzani Merit Scholarship*
80.00 – 89.99 $5,000 $4250 Board of Trustees Merit Scholarship*
<79.99 $8,000 $6800
International Students $10,000 Not Applicable
For more information, Click here.
Interested candidates for scholarships can access more information and the application form at website: auk.edu.krd starting from November 1st.