KAS grants fully-funded scholarships to Ezidi women to study at AUK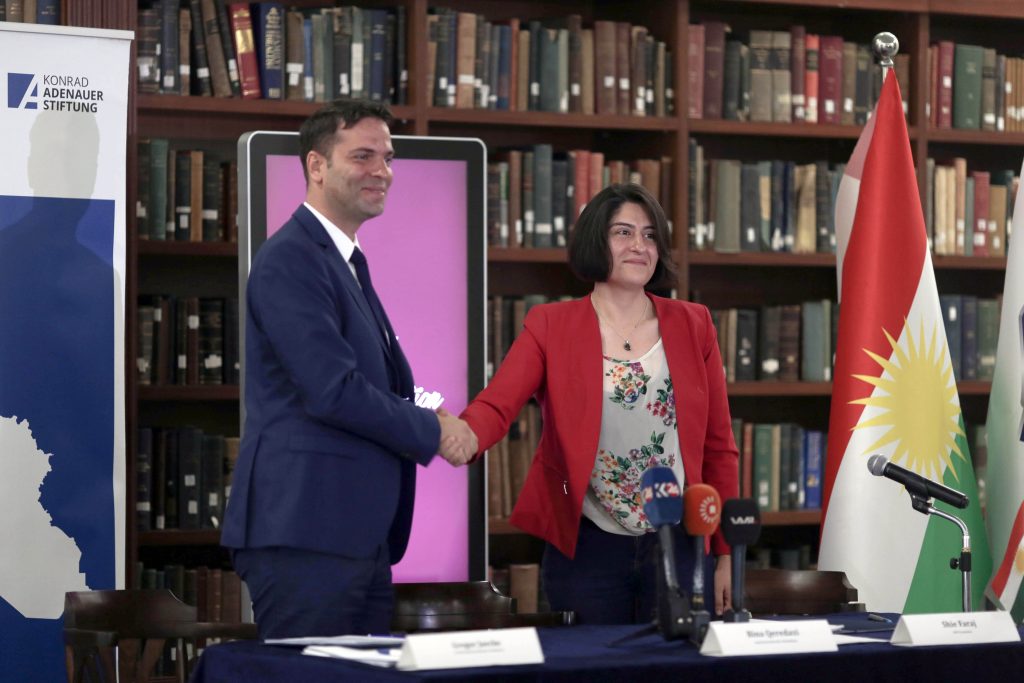 Duhok, October 16, 2019– The American University of Kurdistan Foundation (AUKF) and the German Konrad Adenauer Foundation (KAS) signed a Memorandum of Understanding for granting fully-funded scholarships for two Ezidi women.
Nadya and Shirin, two Ezidi talented women have started their study in AUK through this program, aiming for a brighter future. "We are happy to be here in cooperation with the American University of Kurdistan to address a very pressing issue: how young talented Ezidis get access to education… and not only education… but also future perspectives. We are well aware of the great educational opportunities here at the American University of Kurdistan." Said Gregor Jaecke, representative of Konrad Adenauer Foundation within a press conference held in AUK. "We know, that our two scholarship holders, have convinced us with their great performance and motivation and will make us – and even more important! – their Ezidi community very proud." He added.
The Konrad Adenauer Foundation, as a Foundation closely allied to the German CDU-party of Chancellor Angela Merkel, promotes democracy, good governance, human rights and the rule of law through more than 90 offices worldwide. KAS promotes dialogue between political decision-makers, actors from the private sector and civil society. And by bringing together people who take their social responsibility seriously, it promotes the establishment of professional networks and the exchange of innovative ideas to tackle current challenges.
"We thank Konrad Adneauer Foundation for all their efforts during this project and look forward to a long lasting sustainable partnership together." Said Shie Faraj, representative of AUK foundation "Education is the most powerful tool for the development of our youth and AUKF welcomes other collaborations with governments, non for profit organizations and others to strengthen the educational mission of AUK for the benefit of our society." She added.
Since 2014, AUKF has provided a significant number of scholarships to AUK students as well as providing state of the art facilities such as the recently built All women residence hall.
AUKF's mission is to provide support to prospective and present students at AUK in order to become the next generation of leaders who are committed to working and bring peace and stability to the region.