Greeting from the President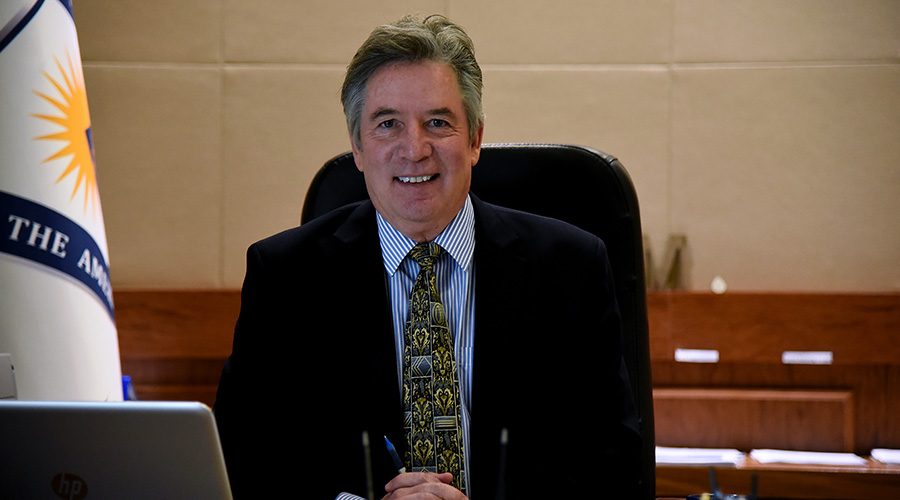 It's a distinct pleasure to welcome you to The American University of Kurdistan. AUK is a brand-new campus; the Mustafa Barzani Building presently houses all programs and services. In the future you will witness men's and women's dormitories being built as well as new structures that will house new educational programs, athletics facilities, a conference center, and much more.
AUK began with only five undergraduate departments including design, media studies, computer science, management and finance, and politics and public policy. However, we have laid the groundwork for a new School of Engineering, School of Education, School of Business, School of International Affairs, and School of Arts and Sciences. A comprehensive College of Health Sciences is envisioned, containing a School of Medicine, School of Pharmacy, and School of Nursing. We are planning for graduate programs in business, including a master's in business administration and a master's in healthcare administration, among others. We will have a full range of student services and activities including athletics, study abroad, and a wide variety of student clubs. Eventually, AUK will have about 4,000 students.
We are modeling AUK after several of the most prestigious American-style universities in the world. AUK will be a first-tier institution with the finest faculty and research facilities in the region. What will it mean to graduate with a degree from AUK? It means our students will learn critical thinking skills. They will be life-long learners. They will be highly educated, sophisticated global citizens. Our students will be proud to be graduates of AUK.
To be successful at AUK, our students will need to work hard….very hard. They will speak fluent English. They will succeed in their classes. And they will eventually get great jobs in exciting parts of the world.
I encourage you to drop by my office if you have questions about AUK. My door is always open to you.
A sincere welcome to The American University of Kurdistan!
Michael W. Mulnix, PhD
President