The year in review: 2020 at AUK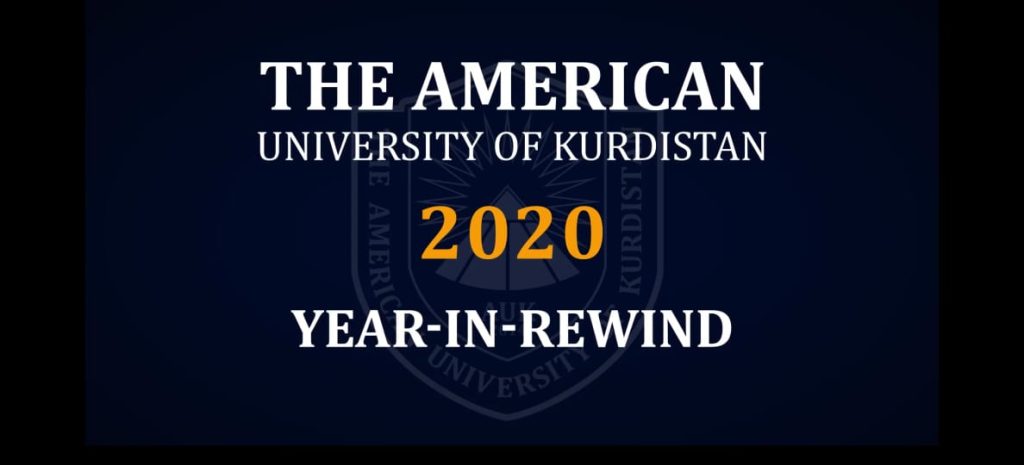 Duhok, Kurdistan Region – December 31st, 2020 – The American University of Kurdistan, like all other institutions, has had an unexpected and challenging year. However, full of accomplishments, celebrations, and achievements.
2020 has been a difficult year, yet a year that all the AUK community can be proud of. The epidemic has caused unusual disruptions, and the University was forced to reconsider its activities in a concise amount of time to accommodate its community's rapid needs.
With courses moving from the classrooms to the online, our staff, faculty members, and students experienced a complete shift to digital learning. The AUK has been one of the premier universities in Iraq to succeed in this method, starting from April 2020.
Besides, many other activities, important visits, webinars, and events have been held considering the safety measures. The following is a highlight from AUK activities in 2020:
January:
– Students registered for several activities on Cubs Day
– AUK and the U.S. Consulate handed out certificates to students of the English Access Microscholarship program
– AUK students participated in a quiz show called "Asterekani Zanko" on Kurdistan24
February:
– Students of Oil and Gas Management finished their internship with Gulf Keystone International Ltd.
– DNO company hosted workshops for Petroleum Engineering at AUK
– AUK's Mustafa Barzani Building was beautifully covered by snow in the first storm in a decade
– We introduced AUK to our Freshers and celebrated a party with star singers
– For Valentine's Day, we also planted roses around the campus
– AUK hosted the final round of debates for Ronaki Girls College
– We kicked off our annual Pool Tournament at AUK
– AUK's College of Nursing started its awareness-raising campaign on COVID-19
– Dean of our College of Nursing, Dr. Susie Chen, visited schools in Duhok to educate on COVID-19
March:
– Complying with KRG's regulations, AUK announced its closure due to the pandemic
April:
– Kurdistan24 reported on AUK being the first University in Kurdistan to start its online studying program.
May:
– Our Interior Design Department started its webinar series with international artists and experts
June:
– AUK announced Dr. Randall Rhodes as its new President
– AUK and Wayne State University announced their 2+2 degree programs for Engineering students
July:
– AUK welcomed a delegation of Kurdistan Parliament's Higher Education Committee with a campus tour
– AUK students of International Relations participated in the annual Global Negotiation Conference
– The first donation of PPE to Duhok's Health Directorate arrived, consisting of 76 cartons of surgical masks, respirators,  coverall medical protective clothing, and face shields
August:
– Our ETE students used the lockdown to develop the "Assistive Robot for COVID-19 (ARC-19)"
– AUK student Areen Masrour Barzani launched the #AreenMaskChallenge to raise awareness on social media
– AUK students launched the #ReadToLead campaign to promote reading books
– Graduates of British International School were given a campus tour in compliance with COVID-19 social-distancing measures
September:
The second PPE donation, containing 183 cartons of protective coveralls, isolation gowns, gloves, face shields, goggles, masks, and respirators, mobilized by AUK, arrived and was presented to KRG's Ministry of Health
October:
U.S. Consul General to Kurdistan Region, Rob Waller visited AUK to announce the award of a grant of $4 million
– AUK President, Dr. Randall Rhodes announced a 15% discount on Tuition Fees to cope with the financial crisis caused by the pandemic
– AUK announced 38 + 1 scholarships for students of lower-income families, minority and underrepresented groups, funded by the U.S. Department of State
– AUK announced 25 scholarships to Nursing students, funded by the Kurdistan Regional Government
November:
– AUK participated in the first-ever Virtual Job Fair by Rwanga Foundation
– Duhok Governor, Dr. Ali Tatar paid a visit to AUK
December:
AUK faculty members were given a webinar on the maintenance and improvement of the assessment process for academic programs
As this eventful and hectic year comes to end, we wish for a new start after the winter holidays.
"I hope that in 2021, we're all reunited on campus, back in the classrooms and campus spaces, enjoying academic discussions, debates, and each other's company." Stated Dr. Randall Rhodes, President of the American University of Kurdistan.
Click here to see AUK's 2020 Highlight video.