Summary of Day Three of MEPS 22 at AUK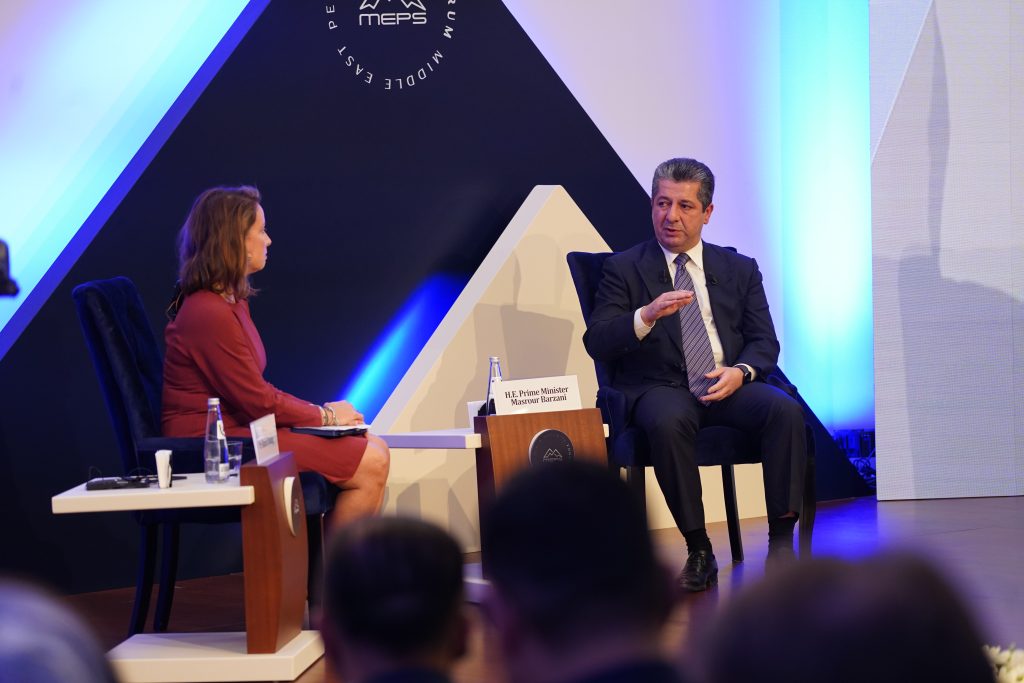 November 17 was the third and final day of #MEPS22. It opened with the master of ceremonies, AUK student Mustafa Awny, calling HE Prime Minister Masrour Barzani to the stage for welcoming remarks. The Prime Minister stated he was looking forward to the conclusions from this year's forum and hoping leaders could benefit from them.
The President of Iraq, HE Latif Rashid, presented the first of two Keynote Speeches. He praised Duhok for its peaceful coexistence of various ethno-religious groups and its picturesque location nestled between mountains. On a very different note, he mentioned his recent visit to a less uplifting feature of the Duhok neighborhood: the camps for IDPs and refugees.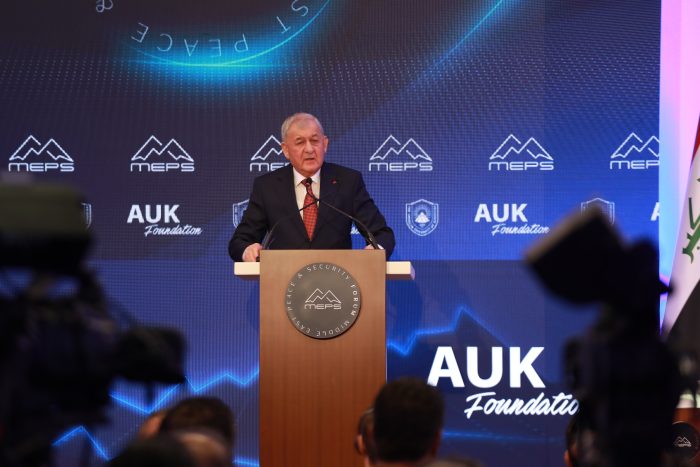 HE Mohamed Al-Halbousi, Speaker of Iraq's Parliament, gave the second Keynote Speech, noting the timeliness of the topics for this year's MEPS Forum and offering a natural transition to the first panel: "Iraq's New Government: What Next for Country & Region?" Chaired by former Iraqi MP Tanya Gilly-Khailany, this panel brought together three active Iraqi politicians, HE Rebar Ahmed, HE Mala Baxtiyar, and Dr. Ala'a Al-Rekabi, and an academic, Dr. Adel Bakawan. This panel was quite frank and pointed out how the gross failures by past Iraqi governments ("Iraq does not have sovereignty over itself") necessitate concerted action by the new one to save Iraq's fragile federalism ("We should live in this country in peace, not in pieces").
The panel "De-Escalation & War: Is Peace in Iraq & the Middle East Possible?" combined three diplomats, former Iraqi Foreign Minister HE Hoshyar Zebari, US Ambassador to Iraq Alina Romanowski, and UK Ambassador to Iraq Mark Bryson-Richardson, with a scholar, Dr. Dalia Dassa Kaye. The two ambassadors articulated their full willingness to work with Iraq's newly installed government. Mr. Zebari verbalized his belief that the time is now to convince a critical mass of Iraqis to abide by the existing constitution in practice, not just in theory. Dr. Kaye enriched the conversation with broader regional considerations impinging on Iraq, such as Iran's nuclear program.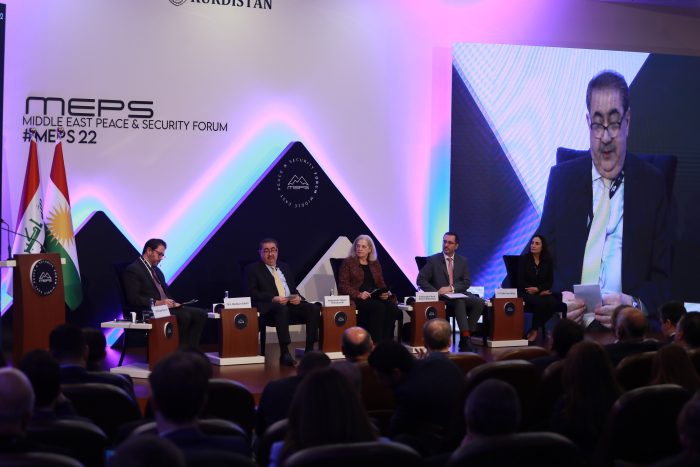 Next, HE Prime Minister Masrour Barzani spoke one-on-one with Dr. Karen Young. He articulated his policies for Kurdistan as a region and his stance toward Iraq as a nation. He drew thunderous applause for his pledge to digitize by 2025 government procedures that have traditionally been slowed by cumbersome and confusing bureaucracy. Later, he made another boisterously well-received promise: "As Prime Minister, I will be acting as Prime Minister, not as a member of a political party."
"Restoring Order in the Region: Are External Actors Part of the Solution?" was the last panel. Its principal thread was similar to that of previous sessions, in acknowledging that "external actors" are already deeply involved in the Middle East and speculating on what their roles will be in the future. Irrespective of what the "external actors" do, the panelists agreed that it will ultimately be up to the "internal actors" to design solutions to the region's most pressing problems. This panel expended noticeable effort defining exactly which countries collectively make up the "Middle East region," carefully considering the cases of Israel and Turkey.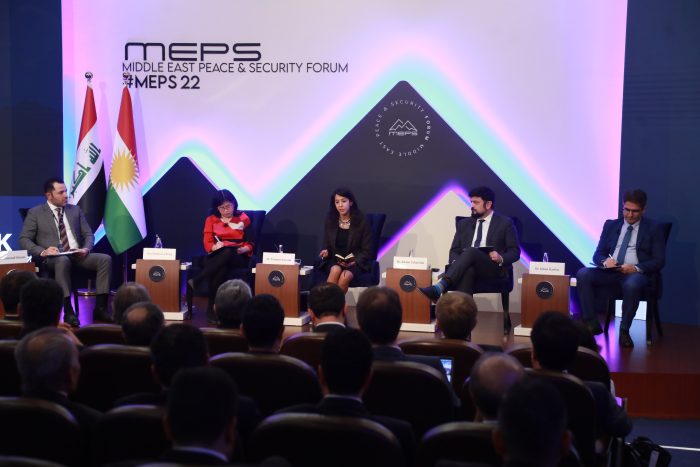 AUK's own Dr. Honar Issa issued the closing remarks for the 2022 MEPS Forum. He recounted the achievements of the first three MEPS Fora, including the one he was in the process of wrapping up. As Dr. Issa put it: "MEPS has fundamentally become a community for empowering Kurdistan's next generation of leaders and thinkers."