Student Spotlight: Q&A with Kavok Shaban Mohammed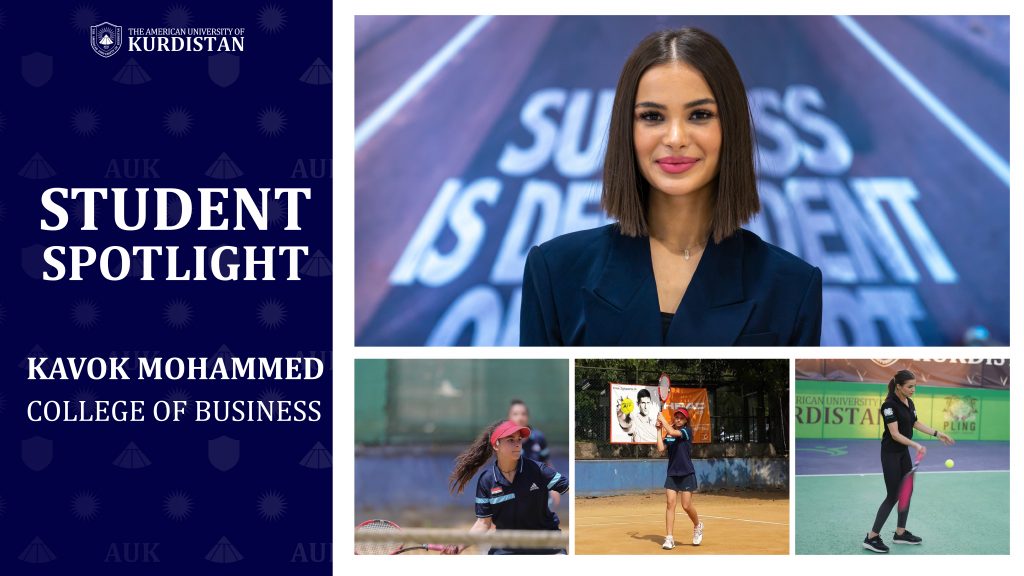 Introducing Kavok Shaban Mohammed.
A Business Management student at AUK who started playing tennis at the age of 12 and soon after represented Duhok at tournaments across Kurdistan and Iraq. Within just a few years, she reached the Top 2 in the national women's tennis rankings, resulting in her selection to represent the Iraqi Women's Tennis Team at the Junior Fed Cup and Asian Championships.
Q: You are a full-time student, a decorated tennis player, a photo model and a fitness coach. What remains for you to achieve?
A: There are two simple but important goals that I have set myself. The first is to encourage young women not to take their talent and health for granted, knowing how much courage it takes for girls in our society to take part in sports. My second goal is simply to promote the beautiful sport of tennis here in Kurdistan, which deserves so much more attention.
Q: How does studying at AUK affect your tennis career?
A: Studying business management at AUK made me aware of how much more I can achieve with my talents, such as turning my skills into a business while still promoting my favorite sports. That made me shift my focus to coaching. Now, finally, with our new Tennis Club at AUK and the support of our partners and sponsors, I can train beginners and pass on my experiences to them.
To extend its wide range of sports, athletics, and recreational programs, designed to keep students engaged and healthy, AUK just recently signed a sponsorship agreement with Viya Institute and Pling Company. Read here.