Student Spotlight: Barzan Ramadhan is balancing study, work and business as he builds for his future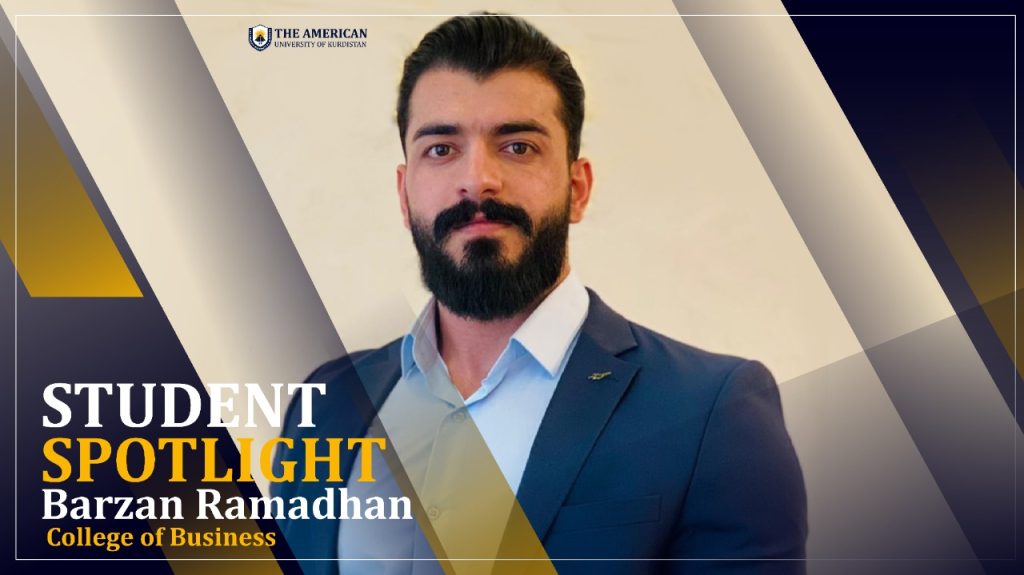 Duhok, Kurdistan Region – October 24th, 2021 – Aspiring to a career as a sports nutritionist, Barzan Ramadhan completed his Bachelor's degree in Physical Education and is now studying at AUK's College of Business.
Now a business management student, Barzan discovered his passion for sports at a very early age. Today, at the age of 28, he has completed nine years of professional sports training. Primarily focused on bodybuilding, Barzan has also studied track and field athletics, martial arts and fencing, as well as team sports such as soccer, basketball, handball and volleyball.
To discover a more scientific approach, the exercise enthusiast started studying Physical Education sciences, graduating with a Bachelor's degree. Fired up by his diploma, the AUK sophomore student works in his field of studies, as a fitness trainer at one of Duhok's most prominent gyms, where he offers clients personal training sessions and programs.
In his programs, Barzan recommends five to seven small meals a day to his clients – depending on whether they need to lose, maintain or gain weight. This is combined with the right exercises for the desired results. He advices a no-fat, no-sugar and no-flour diet. He eats six times a day and works on refining details of his muscles.
With his special dietary programs and individually tailored training programs, Barzan promises his clients not just better results, but also an overall healthier body, better immunity, a fresher and younger appearance, and an improved body feeling.
"We have great athletes and talents in Duhok, but only a handful make use of nutrition programs and healthy dieting while training. I want to change that, and provide an effective but also sustainable sports lifestyle. My studies at AUK will help me gain the know-how for running a business. I can then operate on a larger scale and have more influence," says Barzan.
Barzan Ramadhan applied to the American University of Kurdistan in 2019, after completing mandatory English-language courses. He is now a second-year student, reading Business Management at AUK.
Barzan runs his sports nutrition company, MB Nutrition, offering a healthy approach to physical fitness. Combined with his educational background, and his future degree from AUK, Barzan is well-prepared for a successful leadership career in Duhok's bodybuilding and fitness training scene.