Poetry at Work Day at the AUK Library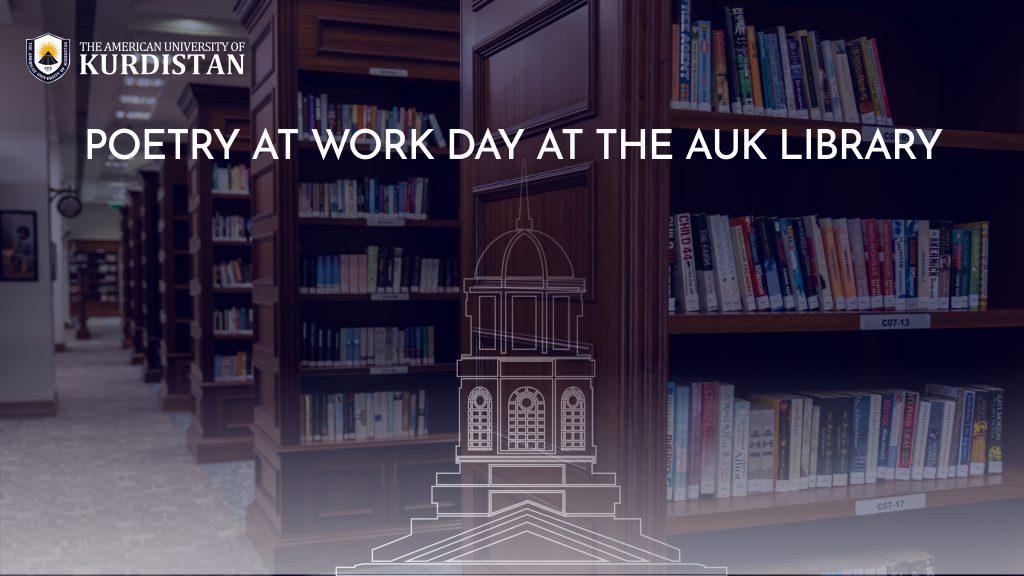 Michael Collins is the Content Writer at the American University of Kurdistan (AUK). He has written poems for the university on several occasions. When he walked through the university library recently, he was impressed enough to make it the subject of his latest poem, consisting of 27 rhyming couplets. This poem marks Poetry at Work Day, January 10, 2023, which the AUK Library was observing.
Your Library
Just to the right of the main entrance, it can be found on the ground floor.
It is indeed full of books, but a careful inspection reveals there is much more.
As you turn into the library, take a closer look at the hall.
What you see on the side is better termed "mural" than "wall."
There are several depictions of the globe, the compass, and the clock.
People largely conquered space and time through the wisdom libraries stock.
The art most certainly does not end there;
Once inside the library, a glance above reveals a chandelier.
There is an invitation to give someone a "shoutout" on a nearby bulletin board;
Praise is something to give out freely, not something to hoard.
Who could not notice the front desk staffed by professionals eager to dispense advice?
These dedicated workers keep the space so quiet one could hear the scurrying of mice.
Near the entrance and in fact throughout, there are paintings that are a feast for the eyes.
They are food for the mind, too, holding a meaning for the thoughtful individual to surmise.
These paintings often show the Kurdistan of yore;
In the library, days gone by are popular topics to explore.
There are also pictures of the Kurdistan of today;
Observe the waterfalls, snow-capped mountains, and buildings for work and play.
There are, furthermore, private study rooms available on the side.
These make for fine places to generate a GPA worthy of pride.
Because AUK uses American instruction, most of the books are in English;
Those looking for learning in other tongues will find texts in Persian, Arabic, and Kurdish.
Those English-language books have been diligently numbered and categorized.
Their rich contents are ready, AUK students, to be analyzed!
On one side, the library is flush with novels, each of which, by definition, tells a story.
Pick one up and read it, to find out if the protagonist's journey ends in heartbreak or glory.
On the other side of the library, the volumes come in numerous kinds,
But they are all non-fiction works meant for the sharpening of minds.
"History & Geography" is the section for those seeking maps or accounts of the past.
They create impressions of the world, then and now, that through the years will last.
"Arts & Recreation" beckons those on a quest for what is "beautiful" or "fun."
It could be for you if you want to gaze upon a "Picasso" or determine how best to "run."
"Technology" is never behind the times, being by its nature "up-to-date."
Check out some of these books, or your understanding may end up seeming "late."
"Science" is an allied field, systematizing knowledge and techniques.
It will, as it has before, propel mankind to some of its highest peaks.
"Language" is indispensable for communication, with people far and wide.
Those skilled in its use can bring others together, removing any need to run and hide.
"Social Science" is where you can read about the most curious of creatures, man.
We will forever be interested in determining man's potential, as much as we can.
"Religion" is how many people determine how to live in a structured, moral way.
This is what unites the faiths; one thing separating them is the "resting day."
"Philosophy & Psychology" go deeply into the human head;
They have valuable lessons, even for those preferring to study something else instead.
"Computer Science" is what in large part makes the modern world go round.
Its capacity to improve human life is something that can truly astound.
There is even a miscellaneous section for books that have been marked "Old,"
But that does not mean that on the inside it would be impossible to find "Gold."
Looking upon this grand library, there is little mystery as to why it would host an event;
It was, for example, used for MEPS '22, prestigious considering all that that forum meant.
The library is open every day there is class, from 8 to 6.
It is a reliable space to learn new things, from big ideas to little tricks.
So, there is no excuse or need to wait.
Stop by the library; it may change your opinion of a subject you "hate."