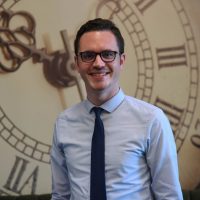 Robert Martin, M.Ed.
Faculty
Robert has taught EFL, EAP and ESP for over ten years in both the Middle East and Asia. He has worked within the compulsory, tertiary and higher education sectors. He specializes in formal international examination courses such as the IELTS and ESP (medical and commercial). Robert worked for a small law firm working within their insurance arbitration department and worked within the UK civil service before teaching.
Robert holds a LL.B (Hons) Law degree (University of Greenwich) in London, specializing in human rights law. He also holds both a BA (Open) and Masters in Education M.Ed. (Education) from the Open University (UK). His teaching qualifications include CELTA (ECC) and Postgraduate Certificate in Teaching EFL (University of Sunderland). He also holds a Certificate of Higher Education in French (Open University). He is currently working towards his Ed.D (Doctorate of Education) in Language Learning and Teaching with the University of Sheffield as of 2017 researching the role of culture within language teaching.
Roberts's research interests include: ESP (Medical, Legal and Commercial), international English language examinations, pedagogical methods, research methods and ethics, educational policy and intercultural learning.