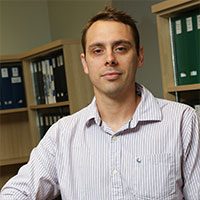 Dr. Charl Swart
Assistant Professor
Dr. Charl Swart is an Assistant Professor in the Department of International Relations, College of International Studies at the American University of Kurdistan. Charl received his Ph.D. in Political Science from Stellenbosch University in 2013. His dissertation focused on what meaning is ascribed to the rule of law by different stakeholders in South Africa. His Ph.D. findings were published in his first co-authored book, 'South Africa and the case for renegotiating the peace' (2016). His M.A in Political Science investigated public opinion on land reform and the rule of law, and he holds a B.A Hons in Political Science.
Prior to joining AUK in 2020, he completed two postdoctoral research fellowships. The first at the School of Public Health, the University of the Western Cape, where his research focused on the future management of HIV/AIDS in South Africa. His second postdoctoral fellowship was completed at the Centre for Research on Evaluation, Science, and Technology at Stellenbosch University, where his research focused on higher education in Africa, scientific research collaboration, and citation characteristics of African scholars.
Charl's teaching interests cover a wide range of subjects, including health systems, political science, and critical service learning. His recent teaching at AUK includes Introduction to Security Studies, World Politics, International Relations Theory, Statistics II, and Social Research Methods.
Other Members

Researcher and assistant professor