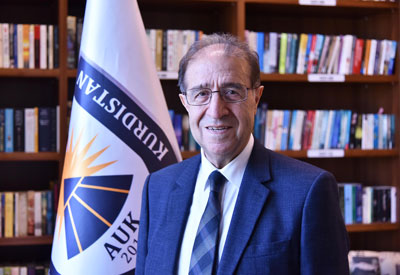 Dear Colleagues,
I am privileged to serve as the Provost of the American University of Kurdistan, an institution of higher learning that is dedicated to shaping future leaders through academic excellence. AUK is a burgeoning university that is constantly growing to cater for the needs of the local and regional communities. In our endeavor to implement the mission of AUK, students make the front and center of our actions and policies. We have a moral obligation to serve and prepare students to achieve the highest standards of excellence for successful careers in the competitive local and global marketplace. In this respect experiential education (curricular, co-curricular and extracurricular) and outcome based learning are of paramount importance.
AUK faculty members are well established international scholars who possess tremendous teaching and research experience. Students will take with them an unforgettable memory of that unique professor who among all others affected their learning experience and their lives most of all. I call upon my entire fellow faculty at AUK to compete to be that unique professor.
Academic excellence is a dynamic process; it will undoubtedly retard if it is not continually enhanced. Excellence necessarily comes from within us and there is always more to be done. I would like to debate academic issues with my fellow faculty on a one-to-one basis, or in group meetings. It is fundamental that we conclude after discussion and should not let important issues languish without decisions for long.
We will continue to offer the orientation course for new students and will implement the new Academic Bridge Program which will have components of the university level English language proficiency and fundamental mathematics; natural sciences as well as courses that improve their communication, leadership, debating and intellectual skills. We follow the American model of liberal art education which has the propensity of producing robust all round graduates with in-depth knowledge, and enjoy innovative and leadership qualities.
The growth of AUK has necessitated the installation of a university management system (UMS) which is a large database that will facilitate and expedite the management, maintaining and securing AUK day to day business. It will also include a student information system (SIS) which provides capabilities pertaining to the registering of students in courses, documenting grading, transcripts, results of student tests and building student schedules as well as tracking student attendance. Furthermore, SIS provides a virtual learning environment where course materials, assignments and tests can be published online. These two facilities will enhance both the administrative and registration processes and also provide students with enhanced virtual learning environment.
I am honored and proud to be working with such a talented administrative and academic staff. Their passion and dedication to serve our students is uplifting for me. I am thankful and happy to be working with and reporting to the President Dr. John Menzies whose persistent leadership has been intrinsic for the strides that AUK has achieved. Finally I would like to share a note of gratitude to my predecessor Dr. Honar Issa whose dedicated and relentless work at AUK since its inception is highly appreciated by all.
Nazar M. S. Numan
Provost