Interview with AUK Student and Published Author Omran Omar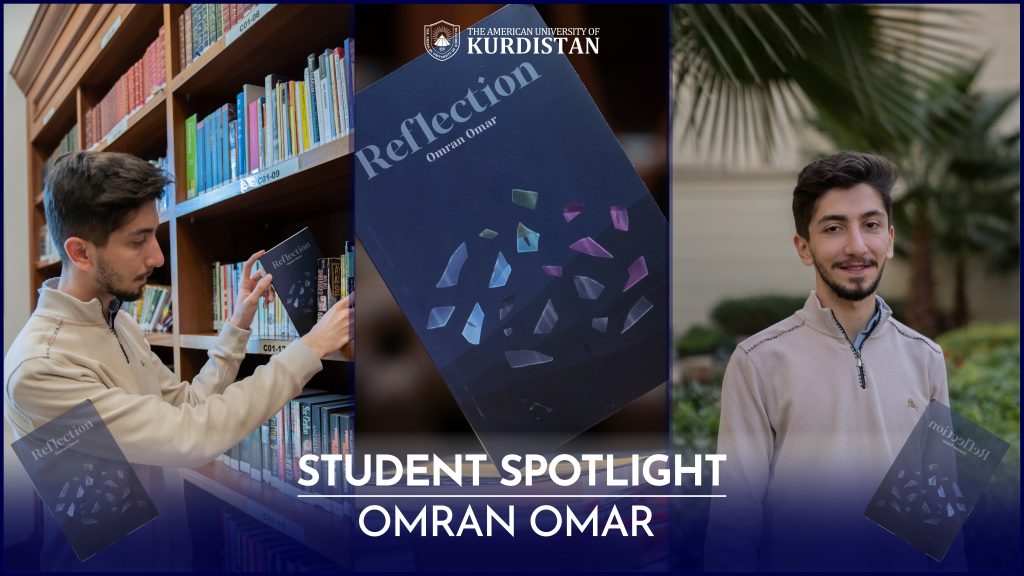 Out of absolutely nowhere on January 15, I, as the Content Writer of AUK, received some interesting news: AUK had produced a published author. I immediately recognized this as an exciting development, worthy of an article of its own. The person who delivered the news soon introduced me to the newly published author: Omran Omar, an AUK junior.
My first question upon learning that an AUK student had just had a book of poetry published was on the language of the text. The book is entirely in English. That helps to explain why Omran had to self-publish it. He explained that the English-language nature of the text led to an automatic expectation of low sales in Iraqi Kurdistan, where English is still not very widely spoken. His collection of 59 original poems, titled Reflection, had been published on the most recent weekday before my meeting with Omran, January 12, so it is accurate to say that the complimentary copy he gave me was "hot off the presses." The initial number of copies of the poetry collection was limited to 750, and it can now be found at select stores in four major cities of Iraqi Kurdistan: Erbil, Slemani, Zakho, and, right in AUK's neighborhood, Duhok.
But why is the title Reflection? Omran said he was brainstorming possible titles and it suddenly hit him, just feeling right. Omran's poetry in the text reflects who he is as a person (as, of course, intended), and the collection also functions as a sort of chronicle, containing his reflections on past events in his life. The cover image matches this title. It shows shards of glass in multiple colors, presumably coming from a shattered mirror, sometimes displaying people reflected in them. Do the different colors signify different emotions? Do the different colors mean the emotions were caused by different people or events? The answers are best left to individual interpretation after reading the poems inside.
I asked Omran what made him write poetry in English. He described himself as an "introvert," and he explained that he started writing poems in English at the age of 15 as a form of self-expression. He found he had a knack for it, and poetry in short order became a favorite form of communication for him. However, toward the end of high school, Omran, in his own words, "took a break" from poetry. It took until November of 2021, at which time Omran was grappling with some difficult emotions, for him to grab a pen and express himself poetically again.
I had been one of many people forced to step away from life as usual as a result of the COVID-19 pandemic, so I asked Omran why he thought the isolation and dislocation of the pandemic did not inspire him to start writing poetry again. He responded that he was too busy "reading" to spend much time "writing." Specifically, he was reading psychological thrillers and romance novels. The pandemic did seriously alter the course of his life, though, as he started his studies at AUK in the Spring semester of 2020, which meant that after barely one month of traditional instruction at the university level he had to start learning remotely. Even remotely, he did his English coursework for AUK with alacrity.
When it came time for Omran to declare a major at AUK, he chose Architectural Engineering. At first glance, this might seem strange for someone so poetically inclined, but Omran himself disagrees. He likens "sending a message through engineering and buildings" to "sending a message through writing." Omran has not yet written a poem dedicated to architecture, but in one of the 59 poems in his collection, "Welcome to the final show," he mentions the discipline.
After hearing all of this, I was still left with several questions about his poetry itself. I asked him who his greatest influences as a poet have been. He unhesitatingly named Sylvia Plath, William Shakespeare, and T.S. Eliot, and when I prodded him for a living person he recognized Lana del Rey for both music and poetry. I wondered what the three most common topics for the 59 poems in his collection were, and he declared them to be "love, pain, and longing." Because poems come in many forms, I asked him what kinds of poetry by structure (for example, limericks, blank verse) were represented in his collection. He responded that a poetry book should be cohesive, with the same structure throughout, and called his own work "free-form." Defining "poetry," especially when, like Omran's, it is unrhymed, can be challenging, but Omran's output meets my personal standards for "poetry," in that it focuses on intense emotions, its uses figurative language extensively, its individual pieces tend to be short, and consecutive lines within pieces are approximately the same in length and syllable count.
My last question for Omran was arguably the most appropriate, given that I am an AUK employee, he is an AUK student, and we were talking at AUK: "How did the people or the environment at the American University of Kurdistan help you write this book?" Omran described the atmosphere at AUK as "supportive" and "encouraging [of] students." AUK obviously deserves some credit in helping to educate a young man to the point at which he could write a book of poems, but, beyond that, the names of several other people affiliated with AUK actually appear in the collection. On page 2, the person acknowledged for "language review" is Jarjis Jarjis, of the Center for Academic and Professional Advancement (CAPA). One of Omran's friends is a CAPA Ambassador, and that friend recommended Jarjis to Omran as someone highly skilled in English and generally reliable. Jarjis, according to Omran, agreed to take on "language review" duties free of charge. At the other extreme of the book, in its last poem, "Farewell," three AUK students are mentioned by name: Shang Aras, Amena Mohammed, and Tophi Awmy. Omran Omar could not be the first AUK student ever to get a book published, as he told me Shang Aras published her own book of poems in English in addition to a book of short stories switching between English and Kurdish.
And Omran Omar will probably not be the last AUK student to get a book published.
Michael Collins, author of several acrostic poems on behalf of AUK already, was sufficiently impressed by his interaction with Omran Omar and his examination of the young man's collection of poems to write another acrostic. The title of this one poem by Michael Collins is, intentionally, the same as the title of the 59-poem collection by Omran Omar: "Reflection." Please do consider this an act of "homage."
Reflection — capable of coming from a mirror or a mind.
Eventually, deep thought carries a person to an interesting find,
Found in a sea of images, some unrelated, others aligned.
Laying those thoughts down on paper, whether blank or lined?
Exactly the lofty challenge motivating those of the poetic kind!
Can you write similes, showing the superficially unalike to be intertwined;
Trying to make your use of language less vernacular, more refined;
Impressing a potential partner otherwise needing to be wined and dined;
Or just trying to disrupt the monotony of the daily grind?
Never discount poetry, to be reckoned among the hallmarks of humankind.