Interview with AUK Grants Manager Omed Zawity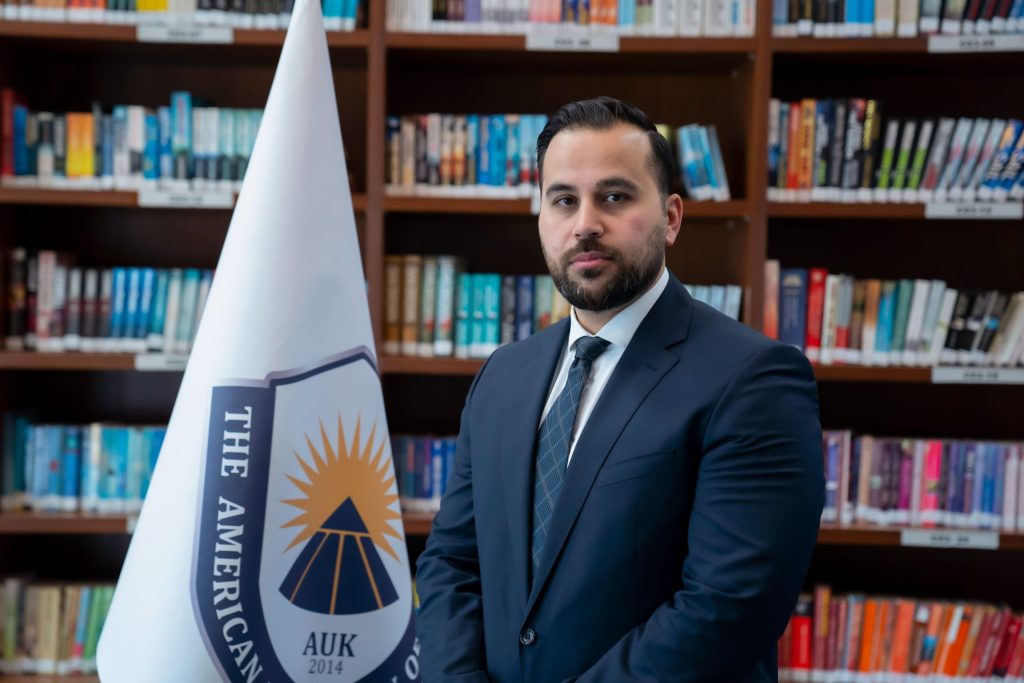 Omed Zawity is the Director of the Office of Grants Management at the American University of Kurdistan (AUK). His ties to AUK date back to its 2014 establishment. He is a very enterprising individual that has grown right alongside AUK, and he explains his drive for lifelong learning with reference to a saying in the Dutch tongue of his country of birth, the Netherlands: "Stilstand betekent achteruitgang" (translating to "Standing still means going backward" in English). In another one of his monthly interviews, AUK Content Writer Michael Collins tried to find out more about Mr. Zawity's commitment to never "standing still" and how that relates to his work at the American University of Kurdistan.
How was life in the Netherlands for you, and just how "Dutch" do you feel now?
Omed Zawity: "My parents were both born in Zawita, a small village located 10 kilometers from Duhok. Around 1980, my parents decided to move to the Netherlands. However, the decision to move to the Netherlands was not entirely voluntary. It all began with the revolutionary conflict against the Baathist regime in 1976, referred to as Shorasha 26 Gulan. My father was among the initial revolutionaries who took action against the Baathist regime. Due to this, my parents were roaming around the Kurdistan region during this period. In 1980, my parents were compelled to seek refuge in Iran as a stopover, before determining to travel to the Netherlands in December of the same year, with the aim of providing their children with a more promising future.
I was born in Amsterdam, in the year 1986. Growing up as a Kurdish individual in the Netherlands, I was fortunate enough to experience a sense of belonging and inclusivity. I had the same privileges as any other kid in the Netherlands. I was surrounded by a society that valued diversity and sought to promote equality for all. This environment allowed me to grow and develop without the burden of feeling like an outsider. I was able to immerse myself in the Dutch culture and form relationships with individuals from all walks of life.
My childhood in the Netherlands was filled with opportunities and experiences that helped lay the foundation for the person I am today. I attended primary school, high school, and, ultimately, university, where I received a well-rounded education that equipped me with the skills and knowledge necessary to succeed in life. The Dutch education system instilled in me a love for learning that has stayed with me throughout my life.
Looking back, I am happy with the childhood I had in the Netherlands. I am confident that the foundation I received in the Netherlands will serve me well in all of my future endeavors and I will carry with me the lessons and values I learned during my formative years.
I pursued my higher education at the Vrije Universiteit in Amsterdam, where I successfully completed both my Bachelor's degree and my Master's degree. My Bachelor's degree was in Economics and Business Economics, while my Master's degree was in Accountancy and Control.
In response to the second part of the question, I maintain a strong sense of Dutch identity, as the Netherlands remains a place I consider a second home. I return to the country once a year to visit and maintain close ties with family members and siblings who reside there."
What made you move to Kurdistan, and how does your experience in Kurdistan fit into your own educational plans?
Omed Zawity: "Upon completion of my Master's degree at the Vrije Universiteit in Amsterdam, I resolved to move to Kurdistan. I lived there from 2014 to 2018, and during that time, I became increasingly aware of the need to give back to the country. I moved back to the Netherlands in 2018 and decided to return to Kurdistan in October 2021. I was motivated by my desire to contribute to the future growth and development of the Kurdistan region. Given my background, education, and professional experience, I believed that I could make a meaningful impact by working in an educational setting.
In 2014, I assumed the role of Program Manager at the Career Development Center of the University of Duhok, with the aim of equipping university graduates for success in the job market. In this capacity, I was responsible for delivering and managing a range of programs and services, including training in soft skills, providing guidance on CV writing and job interview preparation, and organizing job fairs. In mid-2014, I began my tenure at the American University of Kurdistan as the Manager of Student Affairs and an instructor for a Financial and Managerial Accounting course. Four years later, in 2018, I made the decision to return to the Netherlands to further advance my expertise in finance and business.
I recognize that lifelong learning takes many forms and does not have to be limited to formal education or structured programs, and moving to Kurdistan was part of the process for me. Whether the learning is through reading books, attending workshops or seminars, taking online courses, or seeking out new experiences, the key is to maintain a desire to grow. Learning is a vital investment in oneself and one's future. It offers endless opportunities for personal and professional growth and enables us to confidently pursue our aspirations and goals. I strongly encourage others to embrace the lifelong learning journey and never stop striving to better themselves and the world around them.
As someone who values professional growth and development, I made the conscious decision to obtain my Certified Management Accountant (CMA) certification from the Institute of Management Accountants (IMA). The CMA certification is a highly recognized and respected designation that demonstrates expertise in financial planning, analysis, control, and decision support. It provides assurance to employers and clients of a professional's mastery of these critical areas and is an indication of their commitment to the field of business.
I am now considering taking the next step in my professional journey by pursuing the Certified in Strategy and Competitive Analysis (CSCA) certification. This designation recognizes individuals who have advanced skills and knowledge in the areas of strategic planning, competitive intelligence, and market analysis, and is becoming increasingly important in today's rapidly changing business landscape. Obtaining the CSCA certification will not only validate my ability to provide strategic insights that can drive business growth, but it will also demonstrate my ongoing commitment to professional growth and development.
I am proud to have amassed over 16 years of experience in the field of business, across a wide range of disciplines, including Accounting, Controlling, Budgeting, Banking, Financial Analysis, ERP Implementation, External Auditing, Risk Management, and Internal Control. My skills have been honed through hands-on experience in diverse environments, allowing me to acquire a comprehensive understanding of the complexities of the business world.
Throughout my career, I have had the privilege of working with a variety of international organizations, each with its own unique challenges and opportunities. This exposure has provided me with invaluable insights into the differing practices, cultures, and approaches that exist in today's global business landscape. I have learned to navigate these complexities and to develop effective solutions that align with the specific needs of each organization. In Kurdistan and elsewhere, this has been part of my lifelong learning journey, and I face each new day with excitement to take the next step."
You were at the American University of Kurdistan in its early years, left, and then came back, so you should have an informed perspective on how AUK has changed over time. How does the AUK of today differ from the AUK of almost a decade ago?
Omed Zawity: "Comparing the establishment phase of the University in 2014 to its phase upon my return to Kurdistan in 2021, I have observed substantial growth and maturation in the institution. I attribute this progress, in large part, to the current dedicated and effective leadership of the University. By focusing on what is truly crucial and striving towards the realization of the University's mission, vision, and objectives as a cohesive unit, the University has made huge progress. The University's ongoing pursuit of accreditation by the New England Commission of Higher Education serves as testament to the dedication and success of its leadership.
In its early stages, like many other newly established institutions, the American University of Kurdistan faced numerous challenges, such as attracting and retaining capable staff and faculty, establishing a strong brand and reputation, building necessary infrastructure, and competing in a crowded marketplace. However, through perseverance and determination, these obstacles were overcome. The University has now established itself as a well-respected institution, receiving support from a variety of funding agencies, including the largest sponsor, the US Department of State. This support has enabled the University to make significant investments in laboratory facilities and the pursuit of accreditation, further solidifying its position as a leading institution in the region. I am proud to be a part of this story."
You also worked at the University of Duhok. Could you tell me how the educational model implemented at the American University of Kurdistan differs from that of the University of Duhok?

Omed Zawity: "In 2014, I had the opportunity to work at the University of Duhok as a program manager at the Career Development Center. During my time there, I interacted with many students and gained valuable insight into the differences between the US educational model and the standard Iraqi educational model.
In terms of curriculum, the US university educational model – which is the one followed at AUK – places a significant emphasis on practical, job-related skills and knowledge, while the general Iraqi university educational model places greater emphasis on theoretical and liberal arts education. Pedagogy-wise, the US model employs a mixture of lecture-style teaching, hands-on experience, and interactive learning, while locally the focus is more on lecture-style education.
In 2014, the University of Duhok made strides in the right direction through the Career Development Center. However, in the US educational model, this is only a small part of the overall student experience. The student experience in the United States encompasses several aspects, including internships, cooperative education programs, student services such as counseling and career services, and extracurricular activities like clubs. These elements are meant to provide students with practical experience and hands-on learning opportunities.
Overall, my time working at the University of Duhok allowed me to appreciate the importance of incorporating practical, job-related skills and knowledge into the university education. I believe that this is crucial for preparing students for their future careers and helping them to succeed in the job market."
What is the best part about being Director of the Office of Grants Management?
Omed Zawity: "My role at AUK is a unique and challenging one, but also one that is highly rewarding and fulfilling. The best part of being the Director of the Office of Grants Management [OGM] is that I have a hand in so much of what the University is trying to accomplish. As the OGM Director I am trying to advance the mission of AUK, by securing funding for critical initiatives that support institutional goals.
However, this role comes with its own set of challenges. I am required to have a complete understanding of the entire award process. This includes the pre- and post-award phases. The pre-award phase involves searching for funding opportunities, developing proposals, preparing budgets, and collaborating with the different stakeholders on grant applications. The post-award phase, on the other hand, involves tasks such as writing proposals, communicating with internal and external stakeholders, preparing budgets once again, and managing the disbursement of funds. I also ensure that all grant funds are used in accordance with the grant agreement and that all reporting requirements are met.
Overall, the position of Director of the Office of Grants Management is both challenging and rewarding, and I am grateful for the opportunity to serve the University in this capacity. I am committed to continually striving for excellence and making the Office of Grants Management a driving force behind the progress and growth of AUK."
What is the largest grant AUK has received during your tenure, and what has been done with those funds?
Omed Zawity: "During my tenure at the American University of Kurdistan, I have witnessed the significant contributions made with the grants awarded to us by the United States Department of State. These grants were designed to further establish AUK as a premier academic institution in Iraq, offering an authentic American-style education. The funding has enabled us to fortify our partnerships with US-based organizations, implement the necessary changes to achieve NECHE accreditation, construct critical laboratory facilities, and increase university access through scholarships for a wider range of the Iraqi population.
One of the most substantial grants received was in the amount of $4.75 million, which was instrumental in the creation of the Innovation and Entrepreneurship Lab [IEL] and the Nursing Skills and Simulation Lab. The IEL was initiated by the AUK President, Dr. Randall Rhodes, with the aim of promoting entrepreneurship and employment opportunities in the Kurdistan Region of Iraq. The Nursing Skills and Simulation Lab has been designed to imitate real-life patient care settings and specialty practice areas. It provides a safe learning environment for nursing students to develop their clinical judgment and reasoning through simulation-based learning activities. This grant also covered the mentorship for the establishment of the Office of Grants Management and the awarding of scholarships to 59 students from underrepresented minority and vulnerable populations."
What could future funding turn into a reality for AUK?
Omed Zawity: "Future funding can have a number of substantial benefits for both the institution and internal stakeholders. Future funding can provide the resources necessary for AUK to enhance its academic programs, conduct cutting-edge research, attract and retain top-tier faculty, and improve campus infrastructure and facilities. It can also be used to provide students with unique and enriching opportunities, such as scholarships, internships, and study abroad programs. This can help to enhance their education and career prospects and make AUK a more appealing option for prospective students.
Increased funding can enable a university to expand its offerings and provide students with a more diverse range of academic programs, including new majors and minors, as well as interdisciplinary study opportunities. This can help to attract a wider range of students and provide them with the skills and knowledge they need to succeed in the rapidly changing job market.
Moreover, funding can support cutting-edge research that is critical to advancing knowledge in a wide range of fields, including science, technology, engineering, and the humanities. This not only contributes to AUK's reputation as a leading institution of higher education, but also provides students with chances to engage in meaningful research projects furthering understanding of their chosen fields.
Funding can also be used to attract and retain the best faculty, who can bring a wealth of expertise, experience, and innovation to AUK. By investing in faculty, AUK can help to create an even more intellectually stimulating environment.
Funds can be allocated to enhance the physical infrastructure of a university, including the construction of new buildings, the renovation of existing facilities, and the upgrading of technology and equipment. This can provide students with the tools and resources they need to succeed, while also contributing to a more comfortable and welcoming campus environment.
Overall, external funding can play a critical role in helping universities achieve their goals and advance their mission. By providing a source of financing for a wide range of initiatives and projects, external funding can help universities to improve their infrastructure, support research and development, provide opportunities for students, and attract and retain top talent."