Digital introduction: Welcoming new students virtually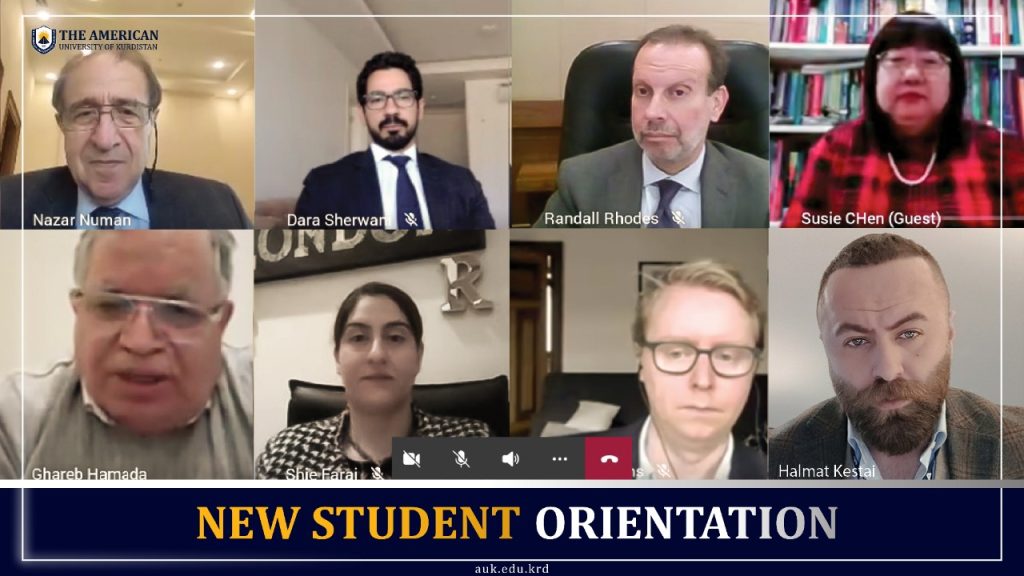 Duhok, Kurdistan Region – January 26th, 2021 – The American University of Kurdistan welcomed its new students virtually – according to global pandemic regulations.
AUK is typically abuzz this time of the year with the eager excitement and nervous anticipation that students experience during their orientation or campus visits. But our Freshers are experiencing the campus a little differently this year. Because of the COVID-19 pandemic limiting visitors to campus, this year's Student Orientation didn't include a welcoming party as usual and took place strictly virtually on Microsoft Teams.
"This batch of students is an extraordinary one. They had to finish grade 12 through abnormal conditions during the pandemic. Yet, they could successfully make it here and take their first step into the path of excellence, with AUK," said Shie Faraj, AUK's Director of Legal and Student Affairs, during the online meeting with new students.
In the same meeting, Dr. Randall Rhodes, President of The AUK, also held a speech on the university's core values, objectives, and commitment to serving all the students' needs, followed by Dr. Nazar Numan, Provost of AUK.
"We are happy to welcome new students every year and offer them American-style liberal arts and professional education to produce graduates with global perspectives and future leaders," stated AUK's Provost.
The students were introduced to AUK's Faculty, Chairs, and Deans, who then presented the various colleges, programs, and faculty members.
Next, as the go-to person for all student issues, Miss Shie Faraj held a presentation on AUK's Code of Conduct.
She showcased various activity opportunities for AUK students, like participating in clubs or even taking responsibility by joining AUK's Student Government.
With a positive resonance from the students in the Q&A session and a promise to catch up on a proper Freshers' party, once life is back to normal on campus, AUK's 2021 virtual Student Orientation came to an end and instigated students' first steps into the path of excellence at the same time.