CAPA Planning a Summer Bootcamp for Young Entrepreneurs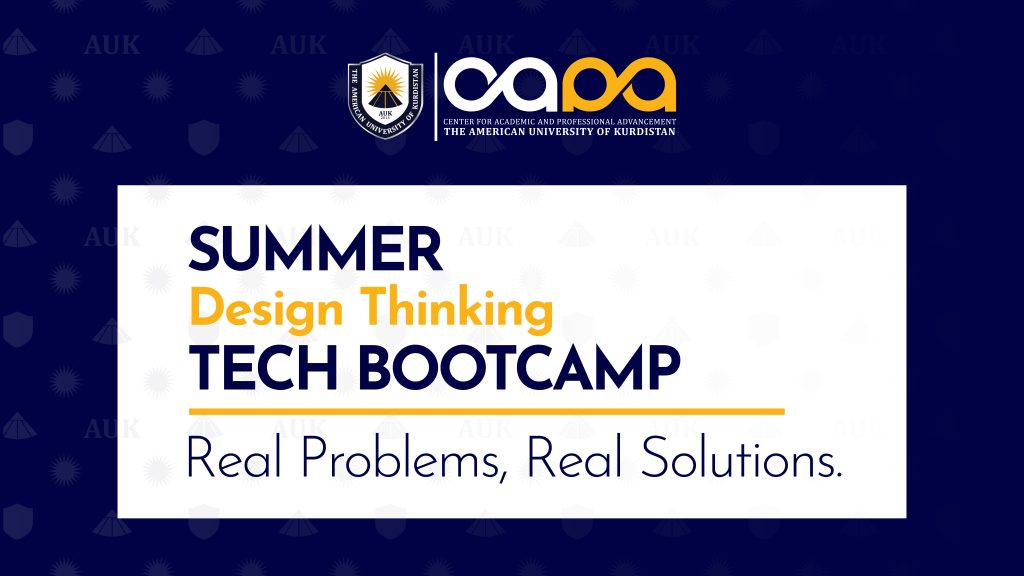 The Center for Academic and Professional Advancement (CAPA) is preparing an exciting project. For two weeks in July, the American University of Kurdistan (AUK) will host the "Summer Design Thinking Tech Bootcamp". The event's motto is "Real Problems, Real Solutions"; although the participants are certainly getting "training," the Bootcamp is about actual issues, not simulations. The participants will turn their ideas into proposals for start-up businesses, projects, or products, in all cases meant to improve life in Kurdistan and beyond.
The entire Bootcamp is slated to last 40 hours over 10 days. Experts from health, education, IT, tourism and hospitality, public works, and other areas will present pressing problems from their respective industries to 21 participants. The participants will be drawn from undergraduate students, alumni, and young professionals. These 21 participants will be split into three teams of seven, and each team will choose one of the problems presented. With the assistance of a coach, the teams will then formulate a solution to its chosen problem in the form of an idea for a business, project, or product. In the parlance of entrepreneurship, such an idea is referred to as the "minimum viable product" (MVP). The MVP judged to be the best will receive seed funding and go through formal incubation, with the seven winners remaining involved throughout the process. The result will be a real start-up, a real project, or a real product, invariably offering a "real solution" to a "real problem."
An undertaking of this magnitude – and importance – requires months of preparation, and CAPA is currently working to ensure this program is a great success. As of this writing, CAPA is engaged in market research and finalizing the list of Bootcamp partners and sponsors. The period from March to June will be selection season, for speakers, coaches, and participants. As soon as the winning idea is chosen, there will be an incubation program lasting until December of 2023. By the end of the year, the start-up, project, or product should be ready for launch.
The Center for Academic and Professional Advancement see the value of the Bootcamp from a perspective that is literally "global." The Bootcamp is not all about finding one winning team and celebrating its success. Rather, it is about encouraging innovation and teaching STEM skills to all participants. Employment and internship opportunities will grow directly and immediately from the output of the victorious team, but members of the other groups will get experience, motivation, and connections to a professional network that could see them in rapid succession working at or launching other operations. Jarjis Jarjis, Professional Development Manager for CAPA, explained the Bootcamp's larger importance: "It gives youths the opportunity and the space to tackle real problems in their communities and provide real solutions."