AUK's 4th cabinet of the Student Government is formed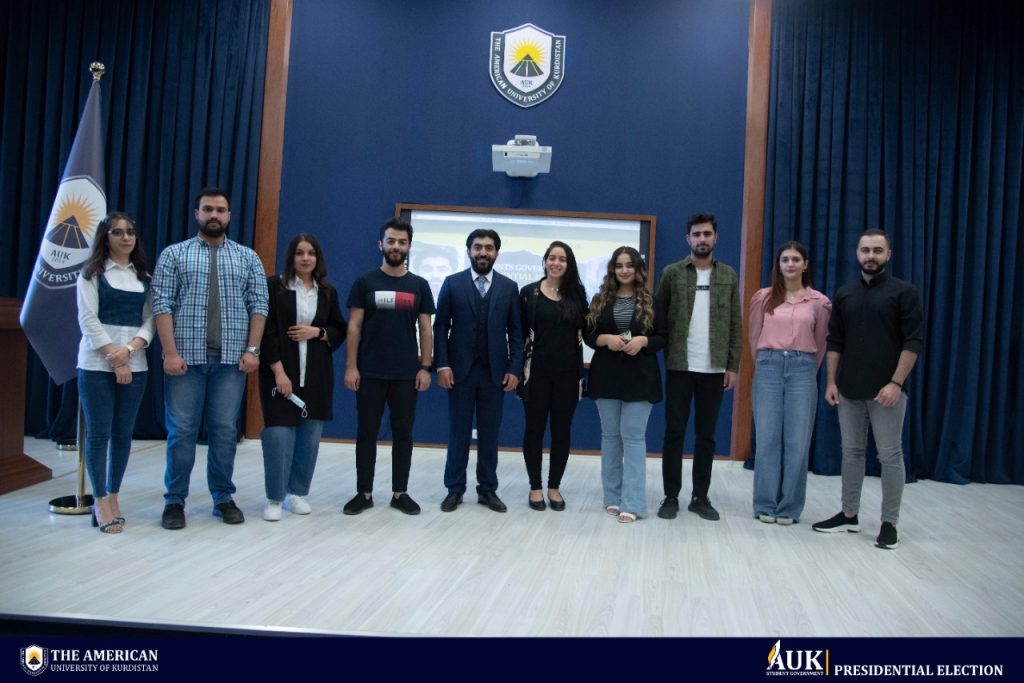 Duhok, Kurdistan Region– September 28th, 2021- Students of the American University of Kurdistan cast their votes to elect the new President of Student Government (SG) to complete the formation of the fourth cabinet.
To ensure this year's Student Government's efficiency, impact, and success, students were invited to apply for respective positions. A screening process included selection by an impartial committee, in where a thorough application process assessed the applicant's leadership capability, experience, student engagement capacity, and more. In order to ensure student engagement in this process, elections were held for the president's position.
On September 27th, nearly four hundred students, making around 60 % of the entire student population at AUK, voted at the polling station inside AUK's auditorium, where the ballot box was placed, to vote for their presidential candidate.
This year's competitors for the presidency were Belend Kamal, Senior Architectural Engineering student, and Zanyar Hasan, Senior Electronics and Telecommunications student.
The election ballots were open for five hours, starting from 10:00 am until 2 pm. The voting and counting process was monitored by Ms. Nadine Aldahleh, AUK's Manager of Student Affairs, and a five-headed jury from staff and faculty members.
"I am very proud of our student body and the high voting turnout. Now that our President is elected, the student government will convene and begin activities, clubs, and initiatives on campus," stated Ms. Nadine. "I am looking forward to an exciting year ahead!" she added.
After a public counting and filtration process for the votes in the auditorium from 2:00 pm – 3:00 pm, Belend Kamal, with 201 votes, was announced the winner of the 2021/2022 SG elections and the new President of AUK's Student Government.
"It's an honor to be representing AUK students and a pleasure to be of service as the president of the 4th cabinet of the Student Government," said Belend proudly and added," I want students to focus on education, without losing the excitement for social, sports and fun activities on campus."
Joining the elected President in the new SG cabinet will be:
Executive Board
Sahar Saleem – Vice President
Rozan Khaled – Treasurer
Ararat Mustafa – Secretary
Dalal Ahmed – Secretary
Executive Committees
Haveen Abdullah – Head of Clubs
Abdulhai Abdulaziz – Head of Media and Public Relations
Anwar Abdullah – Head of Multiculturalism
Abdullah Ibrahim – Head of Debates
Amena Mohammed – Head of Logistics
This is the 4th Student Government since the establishment of AUK. The previous Student Government was presided over by Fatima Othman (2019-2020), Yasa Masoud (2017-2018), and Roj Sarbast Tahir (2016 -2017).