AUK Thanksgiving Acrostic Poem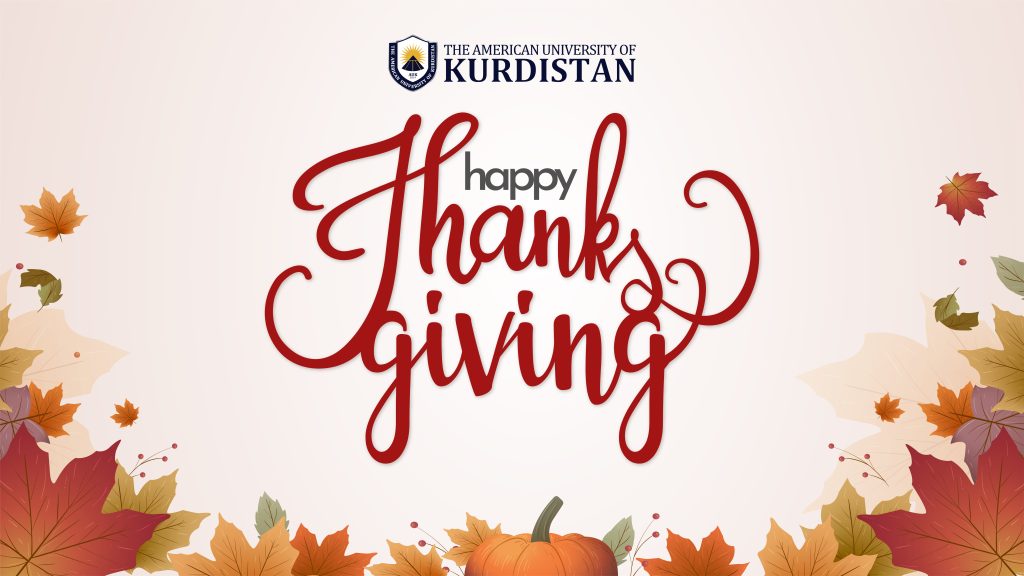 An acrostic poem spells out words with the first letter of each line. Here is an acrostic poem about AUK, "American University of Kurdistan," by employee Michael Collins, meant to express that it is a place we should be grateful for, on American Thanksgiving Day.
An education typical of that in the United States,
Made possible in Iraq for you and your classmates.
Each day brings with it at least one more lesson;
Relax only after paying attention to the class in session.
In no time at all, you are supposed to be a working adult;
Call forth the effort that will lead to that desirable result.
Another life you will never have to live.
No wasting, then, your one and only chance– give, give, give.
Until long after graduation, you will probably not know what these days mean.
Never discount your school years, whether at the time they seem "fat" or "lean."
In ways big and small, you are growing and changing so much,
Viewing sources, attending lectures, writing papers, and such.
Everyone's talent is there, waiting to be discovered;
Reveal yours to your professors and your potential will be uncovered.
Studying might not always be fun, but who said it was supposed to be?
If you study hard, down the road, the fruits of your labor you will surely see.
Trying today is the key to succeeding tomorrow;
Your labor this year will prevent next year's sorrow.
Offer your thanks now, to your school, your teachers, and your friends,
For they will prove later to be the means to some wonderful ends.
Kindly and carefully reflect on all you have here.
Undoubtedly, you have plenty of reasons to hold AUK dear.
Read, write, learn to listen, listen to learn.
Dare to persevere; see how much you earn.
In challenges to come, what you got here will be indispensable;
State your case, stand your ground, and show your idea is defensible.
This institution benefits from you, just as you benefit from it.
A chapter in your story is being written; you have the power to make a "hit."
No other school is quite like AUK, you will hopefully admit.