AUK Spring Semester 2023 New Student Orientation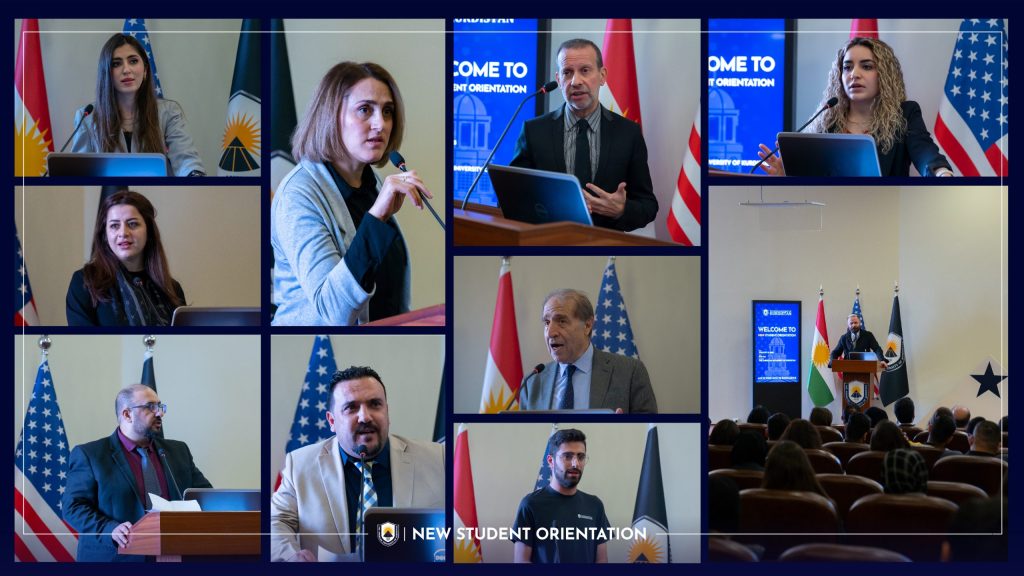 Higher education can be disorienting at first, so the American University of Kurdistan (AUK) provides freshman orientation twice a year. Those who will study at AUK for the first time in the Spring 2023 semester and those who started late in the Fall were formally introduced to AUK on January 12, in the Auditorium of the Mustafa Barzani Building.
Yelena Sardaryan, Director of Student Affairs, opened the session by welcoming the new students to the "vibrant, diverse, inclusive, and challenging community" of AUK. Two speakers addressing the academic aspects of AUK followed. First, AUK President Randall Rhodes spoke of the high expectations for students and AUK's ongoing efforts to achieve US accreditation. President Rhodes made it clear that AUK is no place to sit around socializing; he stated students must be actively involved in their own learning, in and out of the classroom, through "collaboration, cooperation, and co-creation." Dr. Nazar Numan, AUK Provost, next emphasized that AUK students are adults, in both their rights and their responsibilities. He outlined the most important skills for academic success at AUK: time management, note-taking, critical thinking, academic writing, and seeking support when necessary. Halmat Kestai, Manager of Institutional Marketing, provided Kurdish translation for those students just beginning their English language courses.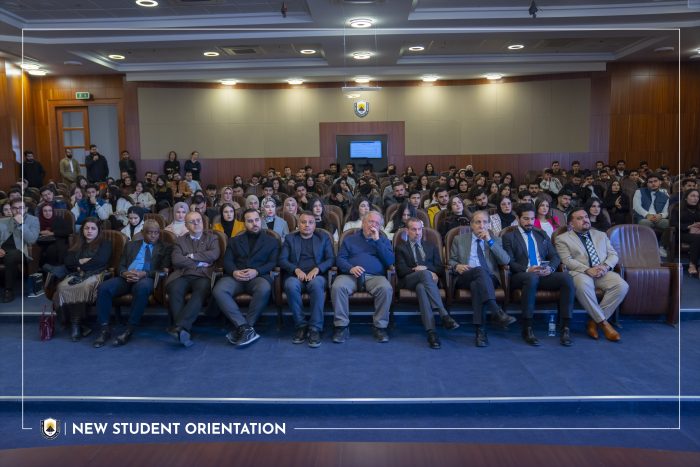 The other speakers touched on aspects of AUK's student support network. Student Government President Aram Omar talked about his role as the "voice" of the student body collectively and let the newcomers know he is open to hearing their concerns. Areen Jamal, Student Affairs Coordinator of Operations, spoke about "life" on campus: the female residence facility and the various clubs and social activities.  Perwar Al-Missouri, Director of Career Services, introduced job support at AUK, which includes resume and interview workshops in addition to the annual job fair. Yelena Sardaryan returned to the stage to introduce the university's counseling and accommodation offerings. Ibrahim Hussein, Director of Admissions & Registration, informed the assembled students of the recommended course load and their ability to add and drop courses over the first few weeks of any given semester. Wan Sanaan of the Office of Advancement noted that AUK offers financial aid to qualifying students for housing, transportation, and tuition support. Library Director Gulan Ahmed invited students to take advantage of AUK's rich print and online resources as well as peer tutoring services.
After the introductory session in the AUK Auditorium, the students split into two groups to receive program-dependent information, with some learning more about the Colleges of General Education and Arts and Sciences and others hearing more about classes with the Center for Academic and Professional Advancement. After those gatherings, there was still plenty of time for socializing, photos, selfies, lunch in the cafeteria, and games. It was a successful day of community building and a great start to the Spring 2023 semester at AUK.