AUK honors Dr. Sinisa Prvanov in a Memorial Service on Campus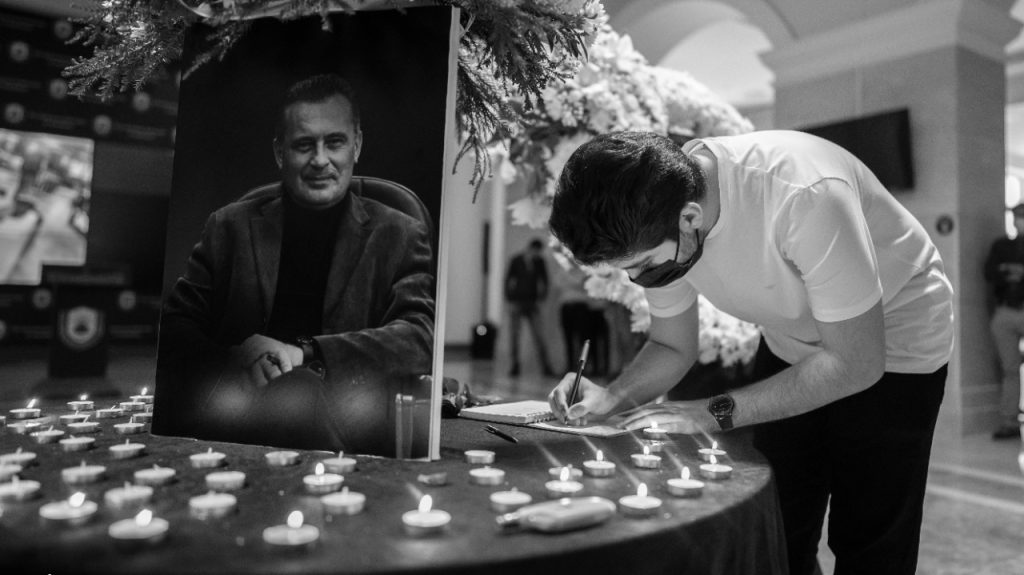 Duhok, Kurdistan Region of Iraq – October 13th, 2021 – The American University held a Memorial Service for the loss of its Chair of Design Department, Dr. Sinisa Prvanov. He passed away on October 10th of a heart attack.
The esteemed faculty member was honored by a candle lighting ceremony in AUK's Student Lounge Area of the Mustafa Barzani Building, with President Randall Rhodes and Provost Nazar Numan making opening speeches in the presence of the campus community.
"Dr. Sinisa's enthusiasm to not only develop art and design at AUK but in growing art awareness throughout the governorate was impressive. He was passionate for teaching drawing and painting to children in IDP camps and in conceptualizing a summer arts camp at AUK for children from lower and higher secondary schools," stated President Rhodes. "This represents his exemplary commitment to the vision of the institution and the impact it can have on the social and cultural progress of Kurdistan," he added.
Later, AUK Provost Dr. Nazar Numan went on to describe the untimely departure of Dr. Sinisa Prvanov as a great shock to his colleagues, staff, and students "Dr. Prvanov was a dedicated mentor to his students. He made a big impact at the Department of Design and was admired by all those who worked with him. He will be greatly missed, especially by his students. And above all, he was a great person."
Thereupon, Dr. Sinisa's students and friends described their losses and shared their experiences, "Light is absent, and we could not observe but darkness in black color with grief for losing you that day. " stated Ahmad Afara, faculty member from AUK's Design Department. "We will remember you, our dear Sinisa, in many positive ways – with a big smile and a great sense of humor, big dreams and enormous creativity, and a lot of stories to tell about you."
Among the students expressing their grief was AUK valedictorian alumni Reekan Farsat, who described the close relationship Dr. Sinisa Prvanov maintained with his students and how he impacted their passion for art and design.
Next to a wreath, where students, faculty, and staff members honored Dr. Prvanov's life, a memorial book was placed to enter personal statements, memories, and condolences. The memorial book will be sent to his wife and daughter in Serbia.
Dr. Prvanov, who had joined the American University of Kurdistan in January 2019 as a faculty member in the Department of Design, became the department's chair in August 2021. He was born in the Republic of Serbia in 1965 and completed his undergraduate studies at the University of Belgrade and his Ph.D. at the National Technical University of Athens. His career spanned over 25 years as an interior architect and educator with a focus on furniture design, public architecture, interior design in the marine environment, all ranging from theory to design to implementation. In addition to working with internationally acclaimed architecture firms, his professional work received several design awards and was exhibited internationally in Berlin, Milan, Bologna, Athens, Monaco, Montevideo, and Montreal; his work has appeared in eleven books, two journal monographs, and over 20 journal articles.
AUK mourns the passing of Dr. Sinisa and celebrates the life and the vitality he brought to the community.