AUK announces the completion of its first all-women Residence Hall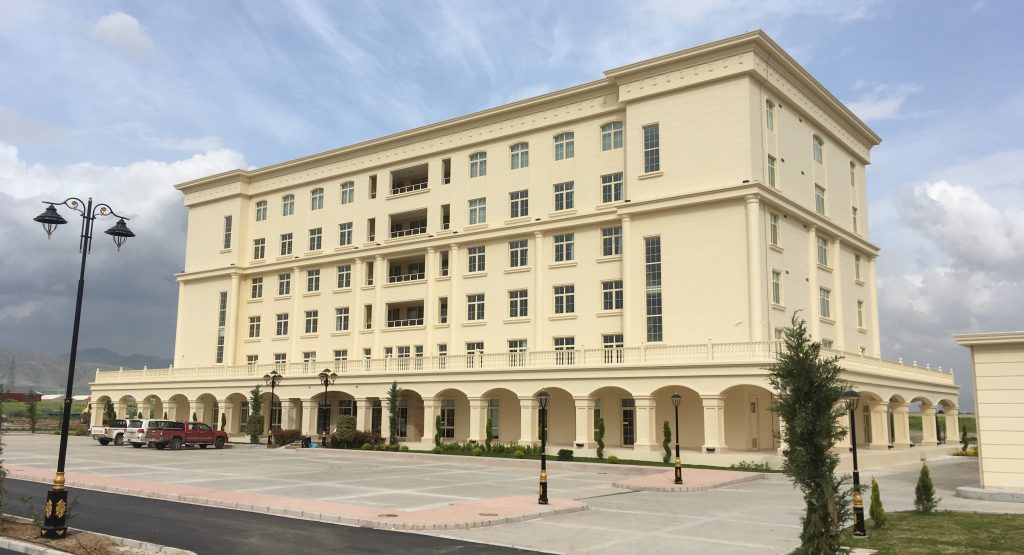 Duhok, Kurdistan Region of Iraq – April 29th, 2019 – The American University of Kurdistan will open its new residence hall this fall providing on-campus housing for 215 women students.
"We are excited to offer the young women of Kurdistan, Iraq, and the larger region this beautiful new residence hall that sets a new standard for student housing not only in Kurdistan, but throughout the Middle East and beyond. They will be able to study in peace, comfort, security, and the highest standard of personal safety and dignity here at the American University of Kurdistan. We are especially grateful to Dr. Rania Majeed and the AUK Foundation, with the support of Chairman Masrour Barzani, in making this beautiful residence hall available," said Dr. John Menzies, President of the American University of Kurdistan.
The design encompasses double and single rooms of semi-suite style layouts. Bright, spacious and comfortable are just a few ways to describe the new residence halls AUK will open this fall providing contemporary on-campus. The level of quality and attention to detail in this new residence hall really shows AUK's dedication to providing students with superior places to live.
"We designed this building to make students feel like they are at home, with climate controlled rooms using advanced HVAC and water filtration system," said Dr. Razaq Ferhadi, the Residential Engineer and AUK's Dean for College of Engineering. "The building is also environmentally friendly with robust insulation installed in the walls and the wastewater is treated and purified to be reused for irrigation purposes." He added.
The new building features the same type of amenities as apartment complexes, like roomy lounge areas with comfortable seating, flat screen televisions in the rooms, pool tables and large-screen TVs in the game area, a gym with the full spectrum of equipment, laundry facilities, and full-sized kitchens on each floor, in addition to a coffee shop and snack bar, and large study rooms, along with 24-hour staff and maintenance services — all designed to make students feel at home without ever having to leave campus.
"This is the start of a larger campaign to recruit students from throughout Iraq and the region, as a key part of AUK's vision of embracing a diverse learning community," said Bina Qeredaxi, AUK's Communications Manager.
The AUK all-women's residence hall is a six-storey building on approximately 10,000 square meters as another indication of AUK's tremendous growth and strong commitment to providing a vibrant student-centered campus experience.